Gigabyte H663 Home Entertainment System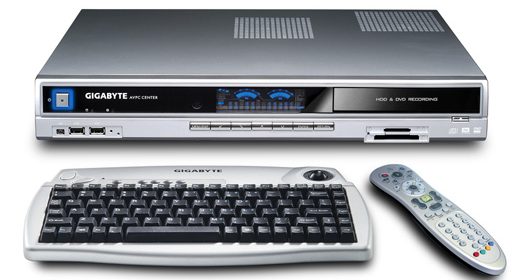 New year's starting off with some nice new reviews. Tweaktown has up the Gigabyte AVPC Center HTPC system, which I honestly can't decide if I like the look of it. One thing's for sure, it doesn't look like a computer, which is always a positive for WAF. So how does it stack up as an actual Media Center?
The H663 is an Intel
Viiv-compliant system, which automatically sets a particular standard
of hardware specifications. The motherboard is a Gigabyte
GA-8I945EF-RH, which has an Intel 945G Express Northbridge chipset and
an Intel ICH7-DH Southbridge. The motherboard has an onboard Intel
GMA950 graphics adaptor, but there is also a PCI-E Gigabyte
GC-ADD2EF-RH graphics card with DVI and S-Video – this card isn't an
independent graphics card in its own right, it simply expands the
capabilities of the GMA950 adaptor. Onboard audio is provided via a
Realtek HD audio chipset.
Unlike most HTPCs
which use a traditional computer PSU, the H663 has a 220W external
power adaptor. This has the advantage of saving quite a bit of internal
space, reduces heat build up and promotes silent running.
Read the rest here.