Giada Ultra MiniPC DN2301 HTPC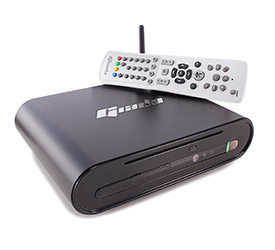 We've been covering a lot of extenders, but don't forget that with technology as it is today you can build a full blown HTPC that looks or in some cases, is even smaller than some extenders. Here's an offering from Giada, a division of Polywell, but at $675 it's a tough pill to swallow without Blu-ray.
The DN2301 is an elongated oval cylinder, with a PC built-in. It's similar to the Dell Studio Hybrid mini, with a slot-loading optical drive built-in. A few judiciously applied electroluminescent light strips allow the DN2301 to almost pass as a prop from the recent Tron Legacy movie. The system lies horizontally, with a large chrome-colored Giada logo on its top surface. It has a decent selection of I/O ports out the back: 4 USB 2.0 ports, HDMI out, SPDIF, DVI, and even a high-speed eSATA port. On the front, there's a digital media card reader, audio ports, and a speedy USB 3.0 port. Both USB 3.0 and eSATA are perfect for the multimedia collector, and will allow you to hook up a speedy external hard drive for more storage if you run out of room on the 500GB 7,200rpm HD. The DN2301 isn't user serviceable, so make sure you're OK with the pre-installed hardware.