Veho Mimi Wireless Gamepad Keyboard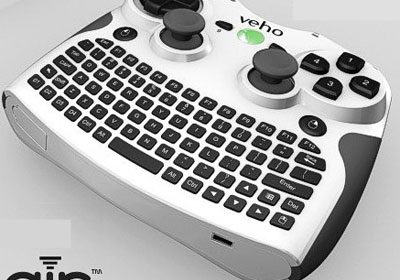 So I get the idea here, combine all sorts of features and then you can do everything. But man, for about $150 this sure seems pretty expensive. I suppose if you really need everything all together it will work. It's tough to see just how big this guy is from the picture though.
The latest of these new breed of hybrid devices is the Mimi Wireless Gamepad Keyboard from Veho. The Veho Mimi Wireless Gamepad Keyboard is not only a small form factor keyboard but also has a built in gyroscope so it can be picked up and used as a 3D mouse! Heck, if all that is not impressive enough, it also has a built-in 8-way gamepad with dual thumbsticks. Yes, this amazing piece of engineering will not only let you surf the web, and the mundane tasks but actually allow you to turn your HTPC into a full on gaming rig! Add in 20 hour run time per charge and a wireless range of 10 meters and on paper, the Veho Mimi Wireless Gamepad Keyboard looks quite promising. In comparison, the upcoming IOGear Mini HTPC Keyboard with integrated trackball looks like somewhat dated.