Zotac's Zbox Nano AD10 Plus nettop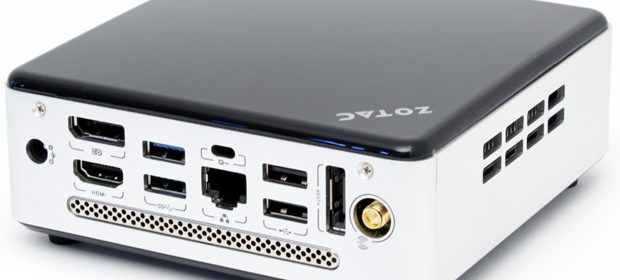 While buying a pre-built HTPC isn't nearly as much fun as building yourself, there are some advantages to it. Zotac has been rolling out a number of various shapes and sizes for the last few years aiming to find a place. Here utilizing the Nano platform which was previously far too underpowered to act as a legitimate HTPC client, the new Radeon chipset in the AD10 looks to be up to the task.
Yes, the Nano actually fits into one of my meaty mitts. The thing measures only 5″ x 5″ x 1.8″ (127 x 127 x 44 mm), giving it a substantially smaller footprint than the old Zbox, while maintaining a similar thickness. To put things into perspective, consider that the Mac Mini has dimensions of 7.7″ x 7.7″ x 1.4″ (197 x 197 x 36 mm).