First Look: Ceton InfiniTV 4 USB CableCARD Tuner

Compared to just a few weeks ago, it is a great time to be in the market for a Digital Cable Tuner (DCT). We just took a look at devices from SiliconDust and Hauppauge and now it is Ceton's turn because their newest tuner, the $299 InfiniTV 4 USB, arrived this afternoon. Obviously we have not had much time to test it, so there will be a full review in the next few days but in the short time it has been here we had a chance to put together a quick look at the device.
The first thing to note is that Ceton let use know that these review units are not cosmetically identical to what will ship to real customers, we are trying find out what the difference is exactly so we should know for the complete review. With that out of the way, we can get a decent feel for how the device looks (and blends) into the environment.
Sporting a matte black finish, one blue (when everything is working right) LED and the essential connectors (USB, M-CARD and power) the device is all business. The case does get a bit warm to the touch so some care is required to handle it if you have sensitive hands and have been abusing it, like we have the last few hours.
The setup process was straight forward, identical actually to the PCIe revision of the InfiniTV 4. Just install the drivers and roll through the CableCARD setup screens inside of Windows 7 Media Center (7MC). Interestingly enough, the technician at Cox was quite comfortable with it being a PC device, even offering it as a potential target for the required pairing process.
7MC is a requirement for Copy-Once content, but for those seeking to use the USB based DCT as a Copy-Freely tuner with other PC DVR solutions like SageTV the CableCARD and Host IDs are available from the diagnostic tool – which also provides an excellent resource for troubleshooting things like activation and entitlements should the need arise.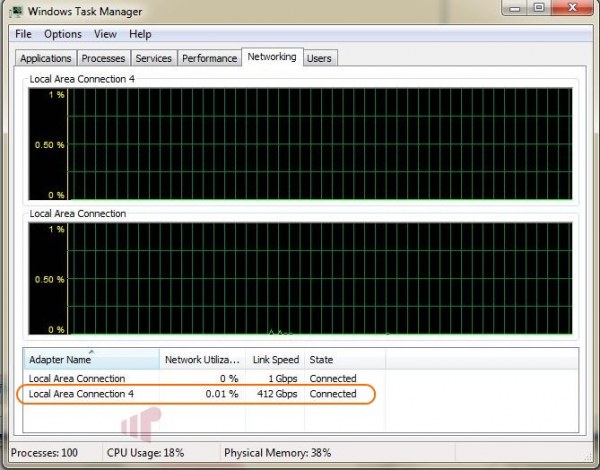 It was not surprising to see the InfiniTV 4 USB exposed as a network device since that is what all DCT are despite the form factor, but it was a bit strange to see the utilization (seems really low) given the link speed when recording four HD channels simultaneously.
Lastly, just a few screenshots that show more information about the device both in use and how it is exposed on the HTPC. Again, the full review is coming when we have had a chance to really beat it up (it is looking good as we pass the six hour mark in the single PC stress test) and test the device's capabilities as a standalone and shared resource. Please post a comment if there is a specific use case or question you would like answered.