Mitsubishi HC5000 Three-chip LCD projector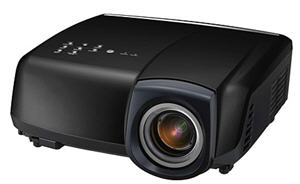 It didn't take me long to realize the HC-5000 should be on most people's short list when shopping for projectors. Right of the bat, the first spec that hit my eye was support for 1080p/24fps. Continuing that with a price tage below $5,000 it is sure to be a winner. However, it did produce some artifacts with the dynamic iris. The usual rule applies….. Check it out before you buy.
From the article:
The HC5000 is a full-on, three-chip 1080p LCD front projector that's loaded with features that matter, not the least of which is video processing courtesy of the Silicon Optix REON chip set. It uses a dynamic iris for improved blacks and contrast, and it accepts 1080p/24 and displays these signals at 48Hz, a direct multiple of 24, which (given a source capable of supplying 1080p/24) removes the potential for temporal artifacts that the typical 3/2 pulldown conversion to 60Hz involves. Let's take a closer look and see if this projector delivers on its promises.