Panasonic TC-P50ST30 3D-Capable Plasma TV Reviewed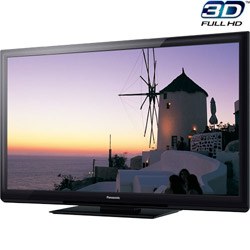 HD Guru got their hands on a Panasonic ST30 plasma and have already put up a review on it. The ST30 seems to offer a compelling value for the more budget-minded 3D-capable display shopper.
It appears the display can be calibrated to be fairly accurate and produces a pretty low minimum luminance of .008 ftL (foot-Lamberts). One feature you won't find with this display is proper 24p playback.
The Panasonic TC-P50ST30 is our first 2011 model test. It's also the first "second generation" Full HD 3D TV to come our way. This 50-inch 1080p HDTV plasma retails for $1499.95, making it one of the lowest priced 3D TVs in its size class.

Initial Impressions

While we (and others) picked the 2010 VT25 series model as last year's 3D TV benchmark, Panasonic has improved many aspects of their TV's performance. The ST models offer new styling, a sleeker form factor, a new "open" Internet platform renamed "Viera Connect," and a number of plasma panel improvements (we elaborate here).