Samsung to License RealD Technology Bringing Full Resolution 3D Using Passive Glasses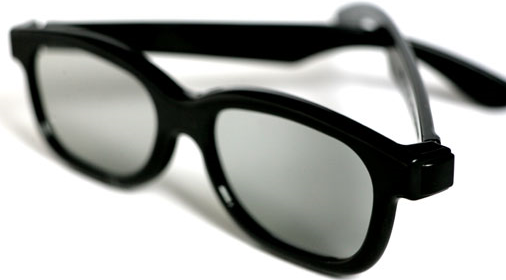 This year, we've seen a big push from LG to promote 3D LCD panels utilizing inexpensive passive 3D glasses. The tech known as film patterned retarder (FPR) has a drawback in that it cuts the resolution of the image in half.
Under a new license deal with RealD, Samsung will be integrating active shutter technology into LCD panels and utilizing inexpensive RealD passive 3D glasses. The technology will bring full resolution to the passive glasses 3D home viewing experience.
While details of exactly how the implementation work, knowing that the glasses work by using circular polarization to discriminate images meant for the left and right eyes, it seems likely that some sort of film that polarizes the image appropriately will be activated in the screen in conjunction with the left and right images.
The tech will first be available in PC monitors. Eventually, it will make its way into larger displays.
Specifically, the jointly-developed advanced active technology 3D displays offer full resolution, high-definition 3D video to each eye and are compatible with the same lower-cost 3D cinema eyewear used in RealD 3D-equipped motion picture theatres around the world.

The need and cost associated with 3D eyewear is considered a major stumbling block in wider consumer adoption of 3D Blu-ray in the home, among other issues.

Unlike film patterned retarder (FPR) based 3D displays that cut resolution to each eye in half, the new Samsung display technology delivers full resolution, high definition 3D images to each eye by adopting active shutter technology on the display, resulting in a brighter, flicker-free, fully immersive 3D experience across a wide viewing angle.

"3D displays should not compromise image quality by degrading resolution, it's simply not the premium viewing experience consumers have come to expect from 3D," said Bob Mayson, president of consumer electronics at RealD. "By working with Samsung to integrate active shutter technology on the panel, these displays deliver a full resolution 3D experience with the convenience and familiarity of RealD 3D cinema eyewear."