First sign of Actual Cable Card Vista MCE Systems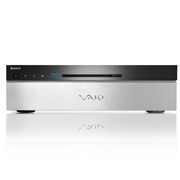 Fellow MVP Bryan Socha pointed out this link to Sony's website, featuring an OCUR-Compatible system with Windows Vista. OCUR is the acronym for Cable Card support, meaning you'd be able to use MCE without a Set Top Box & record HD content. I love that these are coming out, but c'mon guys, $3200 for a system designed to record HD content, but only a 500gb (2 x 250gb) Hard drive?? Really?
The XL3 Digital Living System™ is digital
cable ready and features an OCUR receiver, which is a digital cable
receiver and interface that accepts a TV CableCARD. The CableCARD
removable security module, which must be obtained from your local
service provider, allows you to access the digital cable channels to
which you subscribe without the need for a set-top-box. Windows Vista™
Home Premium with Media Center functionality acts as your DVR, letting
you record and catalog your favorite TV programs to the hard drive.
These innovative tools let you consolidate your entertainment center by
replacing your HD DVR and digital cable set-top-box with the VAIO XL3.
Read the rest of the specs, or heck, BUY IT HERE!