Sony's VAIO VGX-TP1DT media PC stack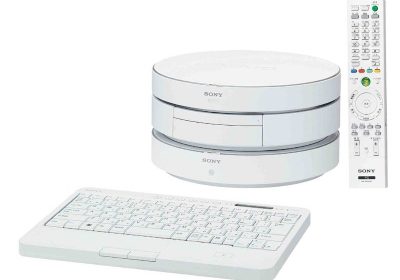 I am not too sure what to say about Sony's latest living room PC. Usually their hardware is well designed and thought out but I am not too sure about the vylinder stack method they have going here. Combined the two make up an HTPC/Media Center/Media Storage'esque device. Head on over to EngadgetHD for the specs.
From the article:
If Sony's latest living room PC lineup is just a bit too big and boxy for your tastes then check their VAIO "Television Side PC" and digital tuner stack. Collectively known as the VGX-TP1DT, it consists of the already announced VGX-TP1 PC and a new VGX-DT1 (bottom cylinder) digital tuner. The TP1 PC loads Vista Home Premium and packs a 1.66GHz Core 2 Duo, 1GB (up to 2GB max) memory, 160GB (up to 500GB) disk, super multi-drive DVD, and terrestrial tuner at its core with HDMI, analog RGB and optical digital outputs.