Sanyo PLV-Z5 LCD Projector Review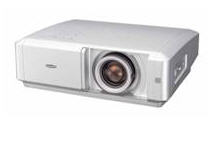 I am not sure I could recommend a non-1080p display device in this day and age. Saying that, I am not truly convinced of the incremental value 1080p brings over 720p. Its just, that I am addicted. The PLV-Z5 gets pretty good review from Audioholics. Coming it at under $2,000, the specs are 1100 ANSI lumens, 10,000:1 contrast ratio, 720p native resolution, 2 X HDMI.HDCP ports and a quiet fan.
From the article:
When I said there were scant differences I wasn't kidding. The new model ups the lumen output by 10% to 1100. It also tweaks the output capabilities to garner a 10,000:1 stated contrast ratio (in Vivid mode, full on/off). The lens throw ratio is slightly adjusted from 1.5 ~ 3.0:1 to 1.35 ~ 2.7:1. There are also two HDMI inputs on the back of the PLV-Z5, giving users an additional option for hooking up that new gaming system or cable box. Case color has also changed slightly form a two-tone gray to a brushed silver look in the new PLV-Z5. This year's model also supports downconversion of 1080p/60 content – a very nice addition and something that shows it is ready to handle any HD format up to the maximum resolution (though 1080p/24 isn't specified). The new Sanyo carries the same 3-year warranty and 90-day lamp warranty as the older model so nothing is lost there. All in all it's an excellent value – just not a revolutionary update. I guess if it ain't broke, don't fix it, right? We did find some significant differences that will come up later during the calibration portion of the review.