LG BH100 Reviewed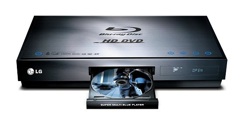 Congratulations all you worry-warts, LG just released a combo HD & BluRay DVD player! That's the good news. The Bad news….it costs $1200!!! For the price of that combo, you could buy an Xbox360 HD DVD drive AND a Playstation 3 with it's blu-ray player. But who am I to judge. 
On the other hand, we couldn't help but feel that LG had rushed this
player out in time for CES.  Yes, it  received the "Best Of Show" award
from c|net.  But it is no excuse not to offer HDi functionality and
HDMI 1.3 support.  Also, MP3 playback and JPEG file viewing would also
be nice since most $30 DVD players can now perform these tasks.
Read the rest here.