'Departed' Specs See Warner Jump Into Uncompressed Audio on Blu-ray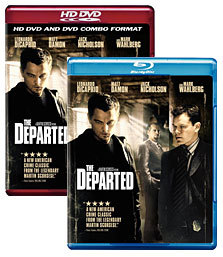 Good to see features still improving on Blu-Ray & HD DVD as they continue their ridiculous battle. But then again, when you're dropping $40 on a DVD, you really don't want to have to buy a new one in a few months just to get all the new extras. Guess that's the price of being an early adopter, eh? 
Originally announced for release on both Blu-ray and HD DVD
two weeks ago at the Consumer Electronics Show, 'The Departed' will hit HD DVD with the expected
Dolby TrueHD track, while the Blu-ray version will feature an uncompressed PCM
5.1 surround track. Though technically this still leaves a disparity between the two versions,
we've been impressed by the quality of all the lossless and uncompressed audio
formats currently supported on the next-gen formats (Dolby TrueHD, uncompressed
PCM and DTS-HD Master Lossless Audio), so it is hard to see this as anything
but a positive move by Warner.
Read the rest here.