The Sony 46″ 1080p XBR2 Review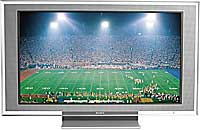 Love em or hate em, Sony will always do great numbers selling overpriced TVs due to their name brand. But, they still make slick looking TV's, even if they're not the best (but just don't try telling my Father that :-P)
With the new calibration settings in place, the picture quality really
shined. 1080i cable feeds looked amazing, DVDs looked great, Blu-Ray a
little better. While my Nintendo Wii (at 480p) looked a little worse
than my previous EDTV plasma, my new Sony PS3 (review coming soon)
outputting at 1080p looked absolutely fantastic with perfectly sharp
text and life-like reflections.
Read the rest here.