CES: Janurary 8th
See Day 1 coverage here.
SciFiTech: Philips does single-speaker surround with SoundBar
There have been plenty of options out there for people who want surround sound but not surround speakers, but we have to admit that Philips's SoundBar HTS8100 looks like a pretty slick new entry to the category. Using proprietary Ambisound technology and Smart Surround processing, it's meant to replace an entire home theater speaker system with one speaker that's about 3 feet long with an aluminum cabinet and glass front panel. It comes with a separate subwoofer for the deep bass.
News.com: Companies pay dearly for tech trade show
It starts with $24,500 for reserving 700 square feet of booth space on the sprawling convention center floor, tens of thousands more to furnish and operate the booth, plus $300 a night for hotel rooms for each of the 29 Digeo employees who are attending the convention.

PVRWire: New Hauppauge WinTV Products for Windows Vista
With the release of Windows Vista, Hauppauge has released a new line of Windows Vista compatible WinTV products. If you ask me it's all starting to get a little confusing, especially when considering the fact that the Win-TV-PVR-150MCE currently sitting in my Media Center box works just fine with Vista…The above cards will be available starting this month costing between $99 and $149.

Sony: SONY DELIVERS LIVING ROOM PC WITH BLU-RAY DISC TECHNOLOGY
The system offers end-to-end support for high-definition camcorders with a suite of video applications that let you capture, edit and burn to Blu-ray Disc high-definition media in full 1080 resolution without downgrading video quality and integrity. The XL3 unit incorporates the latest technologies including an Intel® Core™ 2 Duo processor, NVIDIA® GeForce® 7600 GTL graphics, 2GB of RAM memory, and a roomy 500GB hard drive. The unit also uses liquid cooling technology to maintain high CPU performance while remaining quiet enough for the living room. The XL3 model is equipped with Microsoft Windows Vista™ Home Premium operating system with Media Center functionality for easy content navigation and management. Sony also incorporated Sound Reality™ technology to boost audio performance for high-quality digital sound and support for Direct Steam Digital for unsurpassed reproduction.
Sony: SONY BRINGS INTERNET VIDEO TV TO THE LIVING ROOM
According to Stan Glasgow, president and chief operating officer of Sony Electronics, "This initiative will not only enhance the entertainment experience for owners of Sony Internet video-ready HDTVs, but also reinforce our defining strategy of providing more personalization of products and content for consumers that no other company can offer." Sony's new Internet video-ready televisions will feature the ability to receive streaming broadband video, including high-definition content, via a small optional module that is easily attached and concealed behind the TV for a clean, integrated appearance – even when hung on the wall.
Zatz Not Funny: Digeo Announces Two Stand-Alone HD DVRs
At CES, Digeo will preview two prototypes of planned products for consumers. Both versions will feature the Emmy Award-winning Moxi interface, an integrated CD/DVD player, and features that allow users to watch, record and play high-definition programming, stream content from their PCs and support web scheduling. One prototype, the Moxi Multi-room HD DMR, will provide multi-room HD recording and playback with an integrated multi-stream CableCard (M-Card). A second prototype, the Moxi Home Cinema Edition HD DMR, is a Linux-based system leveraging the recently announced AMD LIVE! Home Cinema reference design that includes advanced audio features and is the ultimate device for home theatre enthusiasts. The Moxi retail product offerings are planned to be available in the second half of 2007.
Click the read more button for even more coverage of CES 🙂 (more stories).
Engadget HD: HP MediaSmart HDTV with Vista Media Center Extender
HP may have discontinued their DLPs, but they have certainly not abandoned HDTV. The new HP MediaSmart HDTVs, including a 42" and 47" 1080p LCD. The most interesting feature of course is the Vista Media Center extender and can connect to HP Media Portal for access to services including Snapfish, Real Rhapsody and Live365 Radio. Not only that, but it supports many formats including DivX. It has a 1200:1 Contrast Ratio, 8 ms response time for the 42" and the 47" is 6 ms.
Engadget HD: Sharp Projectors + Sharp Aquos Lineup
You didn't think that the 108-inch LCD TV was the only big-ticket item Sharp was going to announce today, did you? It's got a trio of projectors to show off as well, the XV-Z3100, DT-510, and the XV-Z20000 1080p models. The XV-Z3100, a nice little portable unit, does 720p at a resolution of 1280 x 780 and has a 6,500:1 contrast ratio, with 1,000 lumens of brightness. Its sibling, the Sharp DT-510 also projects at 720p widescreen, and boasts a contrast ratio of 4,000:1, also at 1,000 lumens. Both of those models will be released in February, for $2,700 and $2,500 respectively. However, the pair of 'em pale in comparison to the XV-Z20000 (pictured), a full HD 1080p HDCP-compliant projector that shines at 1920 x 1080 with a contrast ratio of 12,000:1 and a brightness of 1,000 lumens. It will also upconvert standard resolution signals and is decked out with two HDMI ports. In other words, if you've got $12,000 burning a hole in your pocket right now, Sharp would like to talk to you pronto. Check the next page for some pics of the first two models.

Gizmodo: Toshiba's HD DVD Write Drive Up Close
Here it is in the flesh—Toshiba's SD-H903A, the first HD DVD write drive for PCs. Speed-wise, you'll see faster drives in the future, but if you're jonesing for a writeable HD DVD drive, Toshiba's 1x drive is the first out there
Engadget: AMD announces LIVE! Home Cinema, Home Media Server
AMD LIVE! Home Media Server
The AMD LIVE! Home Media Server, powered by Windows Home Server software, is a platform design enabling various OEM systems to help consumers with multiple home PCs to easily store, share and automatically protect their digital media. The AMD LIVE! Home Media Server offers centralized control over functions such as secure back-up of digital media and other critical PC files; parental controls for all devices connected to the home network; printer sharing between multiple PCs; and streaming stored music, videos or television programs to other devices on the network. This platform design also enables support of potential future services such as home security monitoring, telephony and automated home control.
At CES, HP recently announced the HP MediaSmart Server, which incorporates the AMD LIVE! Home Media Server platform design and Microsoft's new Windows Home Server software. The HP MediaSmart Server is designed to help consumers get the most out of their home network by connecting them with digital assets both at home and on the go. The new system, to be offered exclusively at first shipment with AMD 64-bit technology, enables users to access, back up, share and enjoy digital music, home videos and photos from personal computers or entertainment centers (Digital Media Adapter required) on a home network, as well as access their content from Internet-connected computers anywhere in the world.
Engadget: Xbox 360 IPTV interface gallery
We got a bunch of pics of the new IPTV interface for the Xbox 360, and we like what we see. We kind of thought that Microsoft would be the content provider out of the gate but it looks like they might be partnering with established content delivery companies to supply your 360 with media. There are still a huge amount of unanswered questions we have regarding how it works, who's providing content, what kind of content we can expect (and at what quality / resolution), how much it will cost, etc. Yeah, basically we know nothing. Nothing except the fact that yet again we can't wait for the next generation of content consumption that will maybe finally allow us to ditch our horrid, unusable Motorola high def DVR.
Chris Lanier: Short Bits: Bill Gates CES Keynote
Media Center SportsLounge with FOXSports.com combines live television, real-time scores and online sports media. Also, Windows Vista (premium versions) will have new content from existing partners and new ones, including, Nickelodeon, Showtime and Starz.
HP TouchSmart PC, Vista-inspired PC with touch-screen experience to desktop computing, entertainment hub, etc. Designed for everywhere, family room or living room. [Engadget Pics/Info]
Sony VAIO VGX-TP1, stylish PC for entertainment experience.

Watch live and recorded TV and movies or surf the Web from their sofa using the wireless keyboard or remote control. [Engadget Pics/Info]
Xbox 360 with Microsoft TV IPTV Edition, expected to deliver world-class TV experiences such as digital video recording capabilities, with gaming, movie viewing, and even voice and video communications.

Expected by holiday season 2007, offered by providers that are deploying TV services based on the Microsoft TV IPTV Edition software platform.
Chris Lanier:Embedded Automation's New mCentral Simplifies Digital Home Integration
What is mCentral?
mCentral is an Intel Viiv® compliant Core 2 Duo system which runs Microsoft Windows® Vista™ and includes Embedded Automation's mControl software. mCentral acts as a server for client Media Center Extenders, Digital Media Adapters (DMA) and other Media Center computers. In addition to managing digital media, mCentral also allows users to view and control, in real-time, their security, climate control and lighting systems from any client.
mCentral will be available in two models:

mCentral (Rack Edition) is 19" rack-mountable and is only 1U (1.75") in height.
mCentral (Enclosure Edition) is designed to be mounted within a standard structured wiring cabinet enclosure.

"mCentral provides several compelling benefits to both installers and end-users," said Ted Singh, Business Development Manager of Embedded Automation.
news.com: HP pitches 'little iron' for the home
To find out, you'll need to fork over several hundred dollars. Pricing for the MediaSmart server has not been finalized, but it will cost more than HP's $599 MediaVault product when it arrives in the third quarter, Miner said. The MediaSmart server will come with Advanced Micro Devices' 1.8GHz Sempron processor and four hard drive bays, although HP has not determined exactly how much capacity will be available
news.com: Westinhouse Ramps Up TV Lineup
The new TVs unfurled at the Consumer Electronics Show continue that trend. The company announced a 42-inch LCD TV with 1080p resolution for $1,999, and a 47-inch 1080p TV for $2,499. (The 1080p number means that the TV has a native resolution of 1920×1080, which currently represents the top of the market.) Both TVs are due to come out in April, which means prices could drop by the time they come out.
The unveiling marks Westinghouse's entry into 1080p TVs. Earlier, Westinghouse released 1080p monitors, but these monitors do not have built-in TV tuners.
engadget: Windows Home Server, everything you need: features rundown, screens, hands-on
It does not use RAID, but instead uses a RAID-like drive pooling system with built-in redundancy. Expanding capacity is as simple as adding additional drives internally or externally via USB. We can't say for sure, but we have a feeling if you were to unplug that external drive, your data wouldn't go with it since it's probably spanned across the array.
The client software, which is installable only on Windows PCs (duh) monitors PC health, manages backups, and supports full disk images and versions. If your computer crashes hard you can pop in an restore CD and it'll pull the disk image over the network.
Your WHS device gets registered with your Windows Live account and is made easily-findable by authorized parties (i.e. you and anyone you designate) while on the go. You can even connect to it via Live and pipe a Remote Desktop connection to a PC on your home network through this Home-finding Live feature.
engadget: HP announces bd135, first Blu-ray player
Like most companies here at CES, HP is getting busy launching stuff left and right. In addition to its usual assortment of laptops, desktops and servers, HP decided that it now wants to get into the Blu-ray game. While HP was already doing a fair bit of HD DVD stuff before, this is the company's first major foray into Blu-ray.

engadget: SanDisk Speach and New Player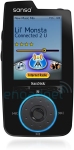 The new Sansa Connect features streaming internet radio (freaking FINALLY), microSD slot, and a 2.2-inch color display — but the centerpiece feature here is, of course, the WiFi content acquisition. SanDisk claims the Connect supports "WMA in both unprotected and protected files" and specifically names PlaysForSure (and Vista) support, but also "utilizes an open (non-proprietary) digital rights management system that will allow users to purchase songs or access subscription download services from specific premium internet sites." (Which sites / services those are, we don't yet know, but apparently it's based on ZING.) No word about transferring subscription media to your pals with Connects, but they do make mention of a "community connection" to other players, which sounds a lot like it, and at very least download and purchase content on the player. The 4GB 2.05 x 3.58 x 0.63-inch player will go for $250 when it hits the streets in late March.