FlexRAID Drive Pool and RAID for WHS 2011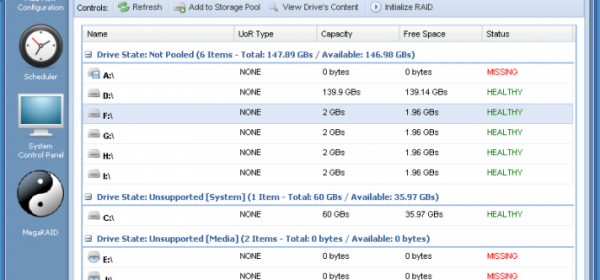 I have been anxiously awaiting the release of real-time FlexRAID for over a year now. It would appear that not only will I get my wish, but anyone using Windows Home Server 2011 will also have an additional option to bring back drive extender-like technology. Just to be clear, FlexRAID works both with or without WHS. In fact, it also works with Linux. Having used FlexRAID in the past and dealt with the developer (Brahim) personally, I have the utmost faith in his "Cruise Control" version, which is the name of the real-time version. As I'm currently testing the waters of migrating my WHS server to multiple VMs under vSphere, Cruise Control will undoubtedly be a part of the implementation. Anyone even remotely considering one of the add-ons/plug-ins announced by 3rd parties for WHS 2011 should take a serious look at FlexRAID. Oh, did I mention FlexRAID is FREE?
FlexRAID provides the cleanest integration into WHS 2011 out of all solutions out there.

FlexRAID requires no plugin and presents its Storage Pool drive as a native NTFS drive to WHS 2011.
This means you can add and manage a FlexRAID pool drive just like a regular but massive drive in WHS 2011′s dashboard.