Seagate Brings 1TB Platter to the Party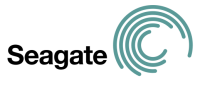 Yet another announcement I've been anxiously awaiting! My multi-platter 1TB drives have been begging me–practically laughing at me–to upgrade them to 1.5TB or 2TB models. But, I have refused to purchase anything with more than 2 platters or anything that spins at less than 7200rpm. As a result, I've been suffering from feelings of size inadequacy for some time now. While many people are satisfied with green drives, I don't want to use them any longer. Thankfully, Seagate is the first to feed my hunger. Now, my only question is how quiet they'll be. With only 2 platters in the 2TB model, I don't think that will be too much of a concern, but there's always the risk of a high-pitch whine.
Seagate's restructuring its hard drive lineup in an attempt to streamline its selection and make it easier to shop for storage. It starts with the introduction of a new 1TB-per-platter hard drive simply called Barracuda, which for the time being will replace all three hard drive lines. Seagate will end production of its Barracuda Green drive in February 2012, and in the short term, the high end Barracuda XT line is being folded into the new Barracuda family.