Plex Updates Everything: New Server, New Clients, WMC Integration, MyPlex in the Cloud

Plex started life as a media center style program based on XBMC for the Mac. Plex is aiming a bit higher now. Over the last few days, while I was preoccupied with piles of Halloween candy, Plex was rolling out a series of updates to their growing lineup of applications.
First out of the gate was myPlex. MyPlex is a cloud-based syncing and queuing service. With a myPlex account, Plex users can sign into any client and access any of their servers without any other setup necessary. On top of that, Plex has put together a bookmarklet for queuing up online video that myPlex will sync with servers and clients.
Once you've created a Plex account (and if you have a forums account, you already have one), you simply sign in on the Plex Media Server, and on your Plex client (e.g. iOS or Android), and you're done. Super easy, and super awesome. Even if you have multiple Plex Media Servers in multiple locations, and multiple mobile devices, myPlex keeps track of everything in order to give you a seamless experience.
Of course, myPlex wouldn't be as exciting without the clients and server to go with it, which is where Laika comes in. Laika, the codename for the new Plex client, has been released with support for Mac, Linux, iOS, Android, and at last, Windows. The new client is based on the most recent stable version of XBMC, sports a new default skin, and adds support for myPlex. There is also a new smart queuing system for television shows that sounds promising.
This new release of Plex fully supports myPlex, and is a "thin client". This means you can download just the client, sign into myPlex, and you have instant access to all your media (and media shared with you), no matter where you are. The client can transcode or Direct Play remote media, including Flash/Silverlight video. Many of you have asked for this feature, and we're incredibly happy to bring it to you. If you look closely, you'll see there's even an option for including shared libraries in the universal search.

Plex Blox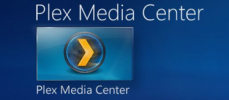 For WMC users, the best news might be that the Plex client integrates directly into Windows Media Center. I've been following Plex development loosely since the Plex team released the Plex server software for Windows with the promise of a client to come, but had been pessimistic about using it in the living room as there was little chance that I would be teaching the family how to switch between media center apps. If the WMC integration works well, Plex might be well-positioned to take on Mediabrowser and My Movies. Anyone else excited to give the new Plex lineup a test run?