Drobo Gets a WHS 2011 Add-In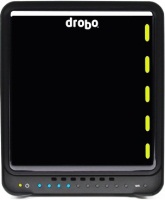 I listen to a lot of podcasts. Too many, in fact. One podcast I used to listen to that has fallen off my playlist is The Home Server Show. It's too bad I haven't been listening as I evidently missed a challenge issued on a recent episode to the WHS community to develop an add-in for managing an attached Drobo. Turns out the community accepted the challenge.
WHS Drobo Status is for Windows Home Server 2011 owners who back up their shared folders to a Drobo. The add-in shows how much space you have available on your Drobo, and the status of the drives.