Origenae S21T Chassis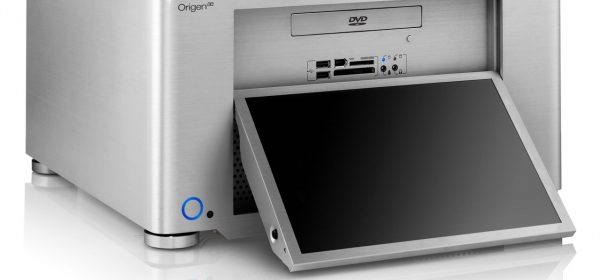 This really does deserve an epic theme song. After a long time in the waiting the epic S21T has arrived! This one piece aluminum curved beauty should satisfy your need for storage with support for 10 hard drives. 10 X 750GB is a lot of storage no matter how you look at it.
You don't get very far without noticing the touch screen on this case. A dimensionally impressive 12.1 inches, this TFT touch screen supports up to 1920*1080. I will find out what the native resolution of the screen for you guys in short order. At this time, I am not sure if it scales or what occurs. It would be kind of weird to have a case LCD have an higher resolution then my computer monitor but I am not complaining. In case you have not already guessed, the screen is motorized.
In the cooling department there are two "low dB" 92mm fans and one "low dB" 120mm fan. If I recall the demo I saw at CES was using a 140mm fan, so they have reduced the sizes a bit. Never the less, this is certainly much better then the 80 and 60mm fans we are used. It should be a nice quiet case. It also comes with a anti-vibration kit for HD mounting.
There are a few other things worth mentioning. This is a high end case and because of that you also get a card reader, internal USB hub and a removable motherboard tray. With all the space taken up my hard drives, they had to compromise on 5.25" space and only allowed one space for DVD players. Stay tuned for more pictures after the break.