CES: January 9th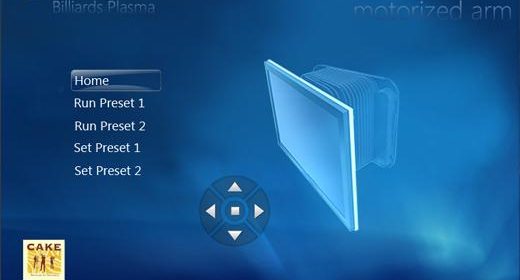 gizmodo: Nextgen Home: Push Those Buttons, Never Get Up Again
Connecting all your media, lighting, security systems and even your washing machine was the theme of this year's Nexgen Home, where the new addition is Windows Vista and Lifeware 2.0 software.
The extra convenience is Vista's native support of WSD (Web Services for Devices), which amounts to USB on Ethernet for plug-and play ease of connecting devices to the system. The standard is growing, where there are now 31 manufacturers and 171 devices supporting it so far.
Too lazy to read all our news postings? This one's for you 🙂
ThinkComputers: CES Unveiled 2007
Well it is the beginning of another year and that means CES. This year marks the 40th anniversary of CES. Last year was our first year at CES and now it is our second so we know what to expect. It is 2 days before the actual show and we are at CES: Unveiled, which is the official press preview of what to expect at the show. Last year we were able to take a look at some really cool products before everyone else did, let's take a look at what we saw this year.
Being strictly the news-only source that we are,

I feel obligated to post Thomas Hawk's photo-blog: The Babes of CES 2007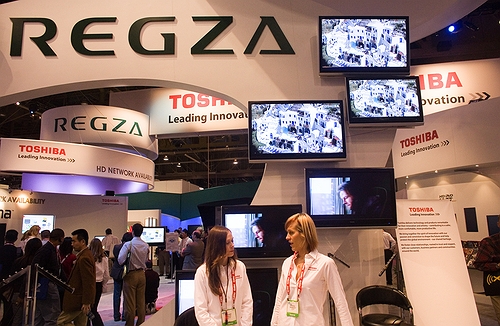 gizmodo: Netgear, BitTorrent Box Streams 1080P To Your TV & NAS

Netgear also showed off the Storage Central Turbo (pictured above), a network storage setup which supports "terabytes of SATA storage" and fail-safe disk mirroring (though you have to supply your own hard drives.) They claimed it's 6x-7x faster than any other network storage device with gigabit speeds, with the ability to transfer an HD movie in about 10 minutes.
c|net: Sony eyeing OLED TVs for 2008
Still, a lot of work remains, and both executives emphasized that Sony is not announcing products or a definitive commitment to OLED TVs. The company, for instance, has to figure out how to mass-manufacture them at a price consumers are willing to pay. SED, a TV format promoted by Toshiba, has been delayed several times, and critics say that when it comes out, Toshiba will have challenges making SED competitive in price with plasma or LCD.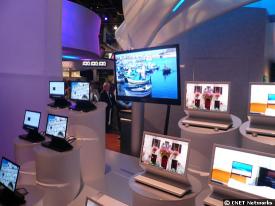 SONOS: SONOS Adds Support For Microsoft Windows Media Player 11 and Windows Vista
Sonos, Inc., the leading developer of wireless multi-room music systems for the digital home, today released Sonos System Software 2.1, a software update to its award-winning digital music system. The one-button software upgrade allows Sonos customers to play Windows Media Digital Rights Management-protected songs— anywhere in the home—using Windows Media Player 11 on Windows XP or Windows Vista. As a direct result of close technical collaboration with the Microsoft Windows team, Sonos 2.1 enables music lovers worldwide to enjoy music from a broad range of music download services, including AOL® Music Now, MTV Networks' URGE, Napster™, Wal-Mart®, Yahoo! Music™ Unlimited, and the Zune Marketplace.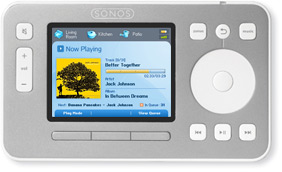 Continue on to see more CES Day 2 News Postings!
ehomeUpgrade:
Q&A: Windows Home Server Simplifies Digital Life for Families
PressPass: How will Windows Home Server tie in with Windows Vista and the other products in Microsoft's connected entertainment, connected experiences visions?
VanRoekel: Windows Home Server will help customers make the most of Windows Vista's enhanced capabilities for accessing, creating, finding and enjoying digital entertainment. And because Windows Home Server is an always-on device, customers will also be able to store all the music from their Zune media player, stream that music and other digital media to devices in the house, such as the Xbox 360 sitting in the den, or third-party products that play streaming digital media stored on a customer's home server.
Windows Home Server will also build on some of the security and systems back-up features in Windows Vista. Windows Home Server will centrally report the health status, of all Windows Vista machines in the home.
Remote Shoppe: Philips launches new range of remotes for Microsoft® Windows Vista
PhilipsÂ' Windows Vista range of remotes for PC OEMs offers a comprehensive set of remote controls to suit various customer needs. The portfolio is available in a variety of appealing designs, and includes both infrared and RF models that enable users to control their PCs even when in other rooms. For effortless integration with PC set-ups, the range includes a host of USB receivers in both external dongle and PCB module form. In addition to advanced features for controlling Windows Vista PCs, several Philips remotes for PC OEMs include learning capability for quick and easy control over the basic functions of virtually any TV set.

In addition to these IR/RF remote controls available to OEMs, Philips is also announcing the availability of the worldÂ's first remote control that supports Windows® SideShow™. This innovative Vista-powered technology enables interactive control of the Media Center experience, allowing the user to browse and play music, pictures, TV shows, and guide data. In addition, it provides convenient access to information like news-feeds, stock quotes, and emails on the remote's LCD display.
CEPro:
Onkyo Announces HD DVD Player, Plans for Complementary Receivers
No launch date, no specs and no details on the new HD DVD player were released, with Onkyo saying that information will come separately. It does say that that the launch of the player will initially be only in the North American market.
Onkyo adds that it intends to develop a line of AV receivers "to enjoy attractive and vigorous HD DVD content through a single HDMI cable that transfers video, audio and control signals."
NDS: NDS AND VBOX TEAM UP TO ENABLE THE BROADCAST OF PREMIUM DIGITAL HDTV CONTENT ON PCS
LAS VEGAS (CES) – January 3, 2007 (The Venetian Hotel, Lido Suite # 3003) – NDS, the leading provider of technology solutions for digital pay-TV, and VBox Communications, a leading provider of digital broadcast solutions, will showcase Cat's Eye Premium at CES, an innovative solution that enables the secure viewing and storage of premium digital HDTV broadcast content on PCs.
VBox's Cat's Eye Premium, the first of a new family of VBox products for the pay-TV market, is an HDTV receiver optimized for reception of video, audio, and IP data. The VBox PC-TV receivers provide digital set-top-box functionality in a PC environment by simply connecting to a PC via a USB or PCI slot. They receive TV broadcast in the same manner as a digital set-top box, requiring no changes in either broadcast infrastructure or in the consumers' premises. The content is protected by the NDS VideoGuard PC conditional access and DRM technology.
Newlaunches: LG's hybrid Blu-ray/HD DVD standalone drive coming soon
Saving you precious moolah and delivering the best of both worlds here is the LG GGW-H10N drive. It can read both HD-DVD and Blu-Ray media but can only write on single and dual layer BD-R/RE discs and not on HD-DVD discs. Although it can write on DVD and CD-R discs. LG has termed the drive as Super Multi Blue, it connects via SATA interface.