CES: January 10th Part 2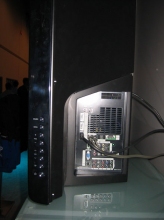 engadget: New TI DLP Light Engine for slim HDTVs
The most popular form factor is the flat panel TV so it stands to reason that everyone else would love to loose the thickness and Texas Instruments has a new solution for DLPs that will bring them a few inches closer to flat panel TVs. The new SLIM light engine has slimmed this 65" to approximatly 10 inches, which makes it slim enough to hang on the wall, it uses solid-state LED illumination and has a contrast ratio of 100,000:1. No details on pricing or availability, more pictures after the jump.All the connections are on the side where they are easy to access.
MediaReady: MediaREADY Announces MC-PRO
'We believe the MediaREADY MC-PRO offers the best solution in the space by providing ample hard drive storage and local memory, high definition and analog television tuning, digital recording, media management with superior connectivity options, home automation controls, advanced audio/video setting controls, built-in 802.11G wireless networking, and superior audio decoding from the high-quality internal D2Audio(R) Intelligent Digital Amplifier(TM). Additionally we are very excited about the AMD dual-core processor in this line as it greatly enhances the performance, especially as it relates to multiple features being used simultaneously like watching television and initiating a live voice or video conversation over the Internet.
Yahoo!: Gyration Air-Mouse Remote with Motion-Sensing Technology Now Available for Microsoft(R) Windows Vista(TM) Media Center
"A traditional mouse is fine for simple desktop computer functions like writing a letter, but when using a media center in the living room, the average person doesn't want to have to be tied down by wires and the need to find a flat surface for the mouse," said Greg Smith, vice president of marketing at Gyration. "We understand people have a natural spatial awareness, so we designed the Media Center Remote to detect simple pointing motion, acting as a handheld pointing and clicking device so people can use natural hand movements to control their entertainment."