CES: January 10th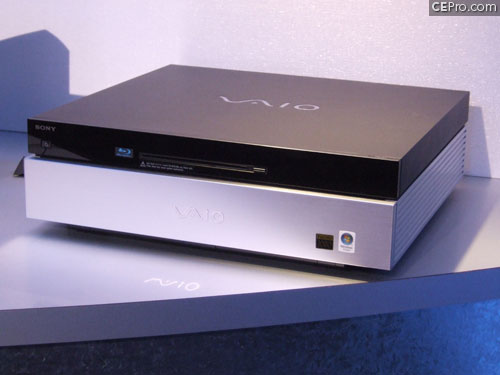 c|net: Media new and old merge at CBS
One of those people is Sling Media CEO Blake Krikorian, creator of the Slingbox place-shifting technology, who joined the CBS president onstage to unveil Sling's latest technology, called "Clip + Sling." It allows users to clip content from live or recorded TV and share it with anyone, including non-Slingbox owners. The clip can be sent in an e-mail that plays the video from a hosted portal.
To demonstrate clipping and slinging, Krikorian selected a clip of CBS's Two and a Half Men and sent it in an e-mail to Moonves. The CBS chief checked his e-mail onstage and forwarded the clip onto Jon Cryer, star of the sitcom, who, in a prerecorded bit, checked his mail via a mobile handset and grumbled sarcastically about receiving "another funny" e-mail from Moonves.
CEPro: Sony's Vaio XL3 Media Center, Blu-ray Prototypes
The XL3, the follow-up to the XL2, uses Windows Vista Home Premium for Media Center Edition functionality and comes equipped with a 500 GB hard drive and HDMI output.
Sony is also showing two new Blu-ray prototypes, dubbed the Sapphire 1 and Sapphire 2. Both units incorporate x.v.Color (deep color), according to Sony's Greg Belloni.
CEPro: Blu-ray Touts Content Advantage, PS3 Impact
As of Christmas week, according to numbers announced at the press conference, weekly sales of Blu-ray discs are outpacing HD DVD movies. Content is key to that equation, the group says. "This is what really defines a format," said Parsons. "This is the face of Blu-ray."
Parsons displayed a list of the top 20 DVD sold in 2006, 19 of which are in the Blu-ray camp. Only 4 are in HD DVD's, and only one — King Kong — is exclusive.
engadgetHD: HP's hd100 external HD DVD drive now on sale
HP's hd100 HD DVD external USB drive is finally shipping and listed on sale at several retailers. Announced last fall, it was scheduled to ship in 2006 but didn't quite make it. We checked with HP when taking a look at a few other proucts (like it's evil twin, the bd135 Blu-ray burner also pictured above) and found out it is now shipping, a quick search on Froogle shows it can be bought for $449. What does $240 more than the price of an Xbox 360 HD DVD add-on that also works on the PC buy you? A drive capable of 2.4x HD DVD / 5x DVD / 14x CD read speeds, USB 2.0 cable, power cord, assorted manuals and support software and a copy of Cyberlink's PowerDVD HD DVD edition.