Cyberlink MagicSports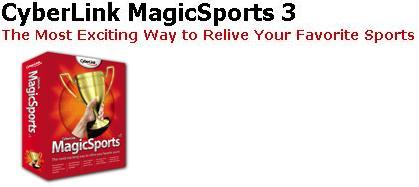 Update 01-15-2007 Mike has updated this article to include a look at how well it works with a baseball game!
I recently got my hands on Cyberlink's latest in sports television analyzing software. What, you ask, is that? It's actually pretty cool software which can analyze your recorded sports (currently limited to only Soccer & Baseball) and mark highlights for you to seamlessly & quickly skim through it's entirety.
Pretty cool concept, but how's it actually do at this? Read on to find out!
Features
FEATURES
MagicSports lets your relive the highlights of your favorite baseball and soccer games, letting you watch and replay TV sports like never before.
Watch baseball and soccer games
Skip between highlights
Watch the rest of a game from any highlight
Operate using a remote control
Create a highlights video of your favorite game
Create a video of game highlights to watch later or share with family and friends. With both automated and manual settings you can output a file in seconds.
Select a duration and let MagicSports create a file of the best game highlights
Manually add or remove game highlights
Enhance audio and video quality with Noise Reduction Eagle Vision technology
Save files in MPEG-2 or unprotected DVR-MS formats
Get more from PowerCinema or Media Center Edition (MCE)
MagicSports expands the TV functionality of PowerCinema and MCE by adding sports analysis to your playback features. With MagicSports you'll find it easier to locate, play, and replay those classic moments from your favorite recorded games.
Compatible with PowerCinema 4 (and later) or Windows XP Media Center Edition
Ready for Windows Vista
Automatically analyzes soccer and baseball videos stored in your Recorded TV folder
Allows quick import and analysis of games stored as MPEG-2
Respects the protection of DVR-MS content
System Requirements
CPU

Intel Pentium 4 2.6 GHz or higher (higher CPU speed will yield better video quality)

Memory

256 MB of RAM (512 MB or more recommended)

Operation System

Microsoft Windows XP (Home edition or Professional edition)
DirectX 9 or above
Windows Media Player 9 or above

Remote Control

Because of system limitations, Windows XP Service Pack I is required in order to operate the remote control.

Hard Disk

200 MB of available hard disk space required for installation (500 MB required for running the program, 1 GB of free disk space is required for running the TV always time-shifting function).

Video Display Card

DirectX-compatible display adapter for 16-bit colors display (32-bit colors recommended). When using 3D UI mode, a graphic card with 64 MB or more of video memory is recommended. A 3D display card is required for MagicSports' transparent index.

Audio Card

DirectX-compatible PCI soundcard, USB audio box, or built-in audio device required for audio playback and recording.

Optical Device

DVD-ROM, DVD-R/RW, DVD-RAM, DVD+R/RW, DVD-Dual, DVD-ROM/CD-RW, or DVD Multi-drive with 1394, USB 2.0, ATAPI, SCSI, or Card Bus interface.

TV Tuner Card

CyberLink's bundled hybrid TV tuner card has been tested and is recommended for use with PowerCinema 5. Windows-compatible analog tuner cards with a WDM driver or a digital/hybrid tuner card with a BDA driver may also be compatible.

Display

Windows-compatible display with at least 1024 x 768 pixel resolution

Mouse

Windows-compatible mouse or pointing device.
So…not the most demanding requirements, but it should be noted that when it's analyzing, it's using solely CPU power, so the more you have, the faster it'll complete.
Well, enough of that, let's get into the program itself!
Installation
INSTALLATION
Setup is pretty standard like any other Windows application.
And hopefully you get the drift, so I won't waste your time with the standard installation.
It should be noted though, that installation time was definitely longer than I expected. Most MCE Plugins are super small & fast, but the install file for MagicSports is 150mb! Let's find out if it was worth it.
Setup
SETUP
So…if you're like me at this point, you're a little anxious to dive right in. Immediately when I received this product I was curious as to how well it would be implemented, as far as ease of use and effectiveness.
After Installation, you can easily access MagicSports from the More Programs menu within Windows Media Center.
Clicking it will launch a new window over your Media Center screen.
I know what you're thinking…."ooh, sexy!" And in honesty, it is. I've played around with many 3rd party plugins, and a lot of them have a clunky feeling to them which Cyberlink manages to avoid. As you can see, the color schema is clearly leaning towards Windows Vista, which Cyberlink tells me is fully compatible with this version of MagicSports.
Upon launching, you're guided through a few quick settings through a Wizard.
Hope you have a keyboard handy. While you can of course use your remote to enter this info, it's a lot easier with a keyboard.
The rest of the setup as you can see is very simple. Concluded with an obvious finish screen.
Now that we've got it installed & setup, we can finally start playing with it. Installation total took maybe 10 minutes. Not too bad.
Using MagicSports
USING MAGICSPORTS
So let me begin by apologizing for my limited amount of programing available. Baseball season is over, so this review will be limited to Soccer for now. I'm in the process of seeing if I can find a baseball game to record, and will add to this review if/when I do.

Now, onto the fun part. I had already scheduled my MCE system to record for me a UEFA Cup Soccer game. I should have mentioned, MagicSports currently only supports Soccer & Baseball…but for some odd reason they call Soccer "Football." It was very confusing to say the least as I was reading highlights, but I suppose that's legitimate in England. Still, I would have liked to see them with different countries, so users in Spain would see "Futbol" or what not. I'd imagine if there's baseball here, not too many UK users need that, so how about we agree on calling it Soccer, shall we?
The interface is pretty simple, where you can click on the sport you wish to watch. You also see a Settings & Extras menu which I've included in their own section. Something that stood out to me from the above and every screenshot is the title "Cyberlink MCE Deluxe Suite." This could explain for some annoyances, but just makes me wonder if Cyberlink originally intended to sell this as part of a larger package.
Once you click on the sport you want (I chose Football/Soccer as I don't have any baseball), you're taken to a very lonely screen. But fear not, this will change soon! To select a video, you simply click "ADD GAME". It's worth noting, that "Remote Key" is a visual guide to using your remote with this software. Nice to have it in an easy to find place.
Note: MagicSports supports the following video formats: MPEG-2 (720×480 ,720×576, 352 x480 )or DVR-MS.
As soon as you add a game MagicSports automatically begins analyzing it, and this is where your system requirements really help you. I'm on an AMD X2 3800+ with 1gb of RAM, and it took almost 30 minutes to analyze 1 soccer game. Not an obscene amount of time, especially if you consider a game itself is 3 hours.
I've included this screenshot (click to enlarge) to show your CPU usage while it's analyzing. As expected, it's capping out my CPU, both cores. Now, what about if I want to watch some LiveTV within Media Center while it's analyzing?
As you can see (click to enlarge) CPU is still going at 100%, but overall it played just fine, which is very good to see. No way I'd ever want to simply stare at the blue screen with the yellow bar moving slowly.
When completed, the yellow bar turns green, and you can now click on it & choose what you want to do with it. In addition to playing the video, you also have the option of simply making a highlight video of the game, or delete it.
Why you can't have it automatically do all of the above, who knows?! Hopefully it's something that Cyberlink will consider for their next version. I'd love to simply have it automatically detect when I've recorded a soccer game, analyze it, and make me a highlight reel of each game.
Click next as we go more in-depth to actually playing the file & making your own highlight reel…
Using MagicSports Continued
Using MagicSports Continued…
So now that we've analyzed a file, let's play it already! That's what you came here for anyways, to see exactly how this works!
When it's done analyzing you can actually view all the thumbnails it has created marking the separate chapters.
Playing a file is actually a lot easier than I anticipated. Basically, when a file is analyzed, what it does is split the show into chapters, which you can skip through. For Soccer games, my only guess on how they know when to select it is based off of crowd or commentator noise levels (everytime there's a close call, crowds cheer). Of course, if you've ever watched Soccer, anytime there's an argued call the crowd also gets loud, and MagicSports does on occasion select those plays as well, but not overwhelmingly.
Fast forwarding through has a nice interface as well, very easy to follow & select your various speeds.
Click the up or down arrow on your remote & you can see thumbnails of each chapter selection. To be honest, not that useful if you're trying to find a specific scene since most scenes are tough to distinguish in a soccer game, but hey, still cool. Just because I prefer to simply skip through chapters doesn't mean you wouldn't prefer to use the thumbnails.
I tried taking screenshots of the chapters selection process, but I couldn't. But all it is, is as you skip through chapters it tells you in the upper right of the screen, ie. Chapter 3/14.
Create a Highlight
CREATE A HIGHLIGHT
Whether you've always wanted to work behind the scenes at ESPN or not, the "Highlight" ability of MagicSports is great if you're crunched for time.
Making a highlight video is really quite easy, as Cyberlink does the work for you. Just click on Make Sports Highlight from the video menu & you're taken to the above, where it has automatically combined all the chapter sections for you, and tells you the duration. In this case, it shrunk a 2.5 hour game into 2 minutes & 35 seconds. Not bad.

For those clips which shouldn't be a highlight, you can select "Add/Drop" scene to remove or add if it missed anything. And you can change the duration to suit your needs.
The final choice is to output to file which take a bit of time, but will encode your file for viewing later or for burning to give to a friend.
Continue on to see the previously mentioned Settings & Extras menu choices.
Settings & Extras
SETTINGS & EXTRAS
The final item I'll cover is the Settings & Extras sections of the program. A small but important part of this particular software especially, as I was particularly curious as to how in depth the program is.
From the settings menu, you can view the Help (which is Very helpful in understanding more about the program), change your Video/Audio settings, Re-Run the Wizard, and see Version Info.
The Help is 30 screens, and guides you through how to use the software to work with Baseball. Oddly enough, Soccer isn't mentioned, which I thought it deserved at least one page, but then again, it was pretty simple as you've seen. But still. 🙂
And here are the so-called "extras" which disappointed me more than made me happy to see them. It's strictly an extra advertisement for the multitude of products which Cyberlink offers. Maybe this goes back to the whole "MCE Deluxe Suite" which is on every screen, so maybe they planned on offering everything together originally, in which case you'd guaranteed already have these programs. But with MagicSports as a stand-alone, it seems like a lot of extra advertising.
And that about does it for MagicSports, continue on to see what I've got to say about everything you've just read & the Pros & Cons of the software.
Conclusion
CONCLUSION
When I first received word from Cyberlink that they wanted me to test MagicSports, I was extremely skeptical. And besides that, I grew up under a die hard Real Madrid fanatic in my father who would consider this type of software to be blasphemous!

However, after using MagicSports (at least for soccer), I was very impressed.
I'm not as die-hard as my father, so this would make watching the remaining UEFA cup games a lot easier (don't get me wrong, I still would never use this on a Real Madrid-Barcelona game, but for the rest, or say…*cough* MLS…you betcha!). The process was fairly simple after reading the Help files, although wasn't the quickest. Once Quad-Core CPUs come out though, I'd imagine that would cut the analyzing time in half, which is about my only other gripe.
As for the selection of highlights, the software surprised me in how effective it was at selecting clips. I would skip to a chapter, and wait anxiously & almost always something exciting happened (the game I chose ended 0-0, but I did see plenty of close calls). The success rate of the clips chosen for the one game I had available was about 85%, which definitely surprised me.
Now, it should be noted that baseball games do take a little more effort, and I really hope I can obtain a game to add to this review, but let's just say that baseball alone took up a healthy portion of the HELP file, explaining exactly what you have to do to get it to work properly.
One thing I couldn't believe is that there isn't a way to automate the majority of the process. I live in California, so most European games are televised during the early afternoon while I'm working. I would love to simply have MagicSports recognize when I've recorded a soccer game & automatically do it's magic to it, so when I got home there's 30 minutes it would have saved me. That's what this whole thing is all about anyways, right? Saving time!!
So keep in mind that my review for this software is tentative until I get a baseball game, but in the meantime, here are the Pro's & Cons of what I was able to test.
PROS
Uses the remote
Slick User interface
Very effective selecting highlights
Shortens a 2.5 hour Soccer game under 3 minutes
Great help file
Excellent Support
Compatible with DVR-MS & MPEG-2 formats
Already integrates smoothly with Vista
Innovative!
CONS
Learning curve initially
No automated clip selecting/analyzing
Kind of costly at $49.95
Extras…pshhht
MagicSports costs $49.95 direct from their website, and is a 149mb Download. That's a healthy amount to invest in software that only covers 2 sports. I suppose if you watch a lot of games it's worth it, but if you're that die-hard a fan, would you really want to only watch the highlights? Spend this now, and do you get a free upgrade if they cover more sports in the near future?
It's a tough call, and I think the $50 is a tough range for it. At $20 or even $30 it's a no-brainer for casual fans, and maybe the idea behind the high price is to eventually bundle this & all their other MCE software together as I previously guessed. Hopefully when they do this, the average cost of this drops.
Baseball Update
January 14, 2006
Well, as promised, I said as soon as I got a baseball file I would finish up the review & add some images for that. Well, Renee over at Cyberlink was kind enough to send me a DVD with the Padres-Cardinals game–which, although really sad as I'm from San Diego–did allow me to give you the long awaited conclusion.
And I can be relieved to say, although the Help file for baseball is incredibly intimidating (I actually didn't read it), setting up & processing a baseball game is JUST AS EASY as it was for the soccer game. You simply analyze the file, and it really does everything on its own. If you have some issues, you can configure it to improve the accuracy, but even that only took 10 seconds.
| | |
| --- | --- |
| | |
| Same familiar interface, but this time you click on the Baseball…which is Baseball 🙂 | Selecting the file |
| | |
| No difference in the analyzing, still takes time & pure CPU usage. | Once completed, you have similar options, except for "Enhance Accuracy"…what is it you ask? |
| | |
| It's as simple as specifying the base & score positions of the game you are watching. If it's wrong, just select "Incorrect" and you can choose it yourself. | Here's the completed file: Not bad trimming a 3.5 hour game into 12 minutes! |
| | |
| Preview & you can add or drop scenes. | And same chapter interface. This particular game wasn't crazy exciting, but still had 42 highlights. Imagine a game that's like 12-13!!! 😛 But then again…games like that, you should really watch live! |
I'm very pleased with the entire package, and the Baseball feature did not let me down. Clearly there is some immense potential in this technology/software. I get excited just thinking of it analyzing Boxing matches (which can tend to be slow at times), or even just have it analyze any sports, even ones that I love. I'm pretty busy, so if I don't have time to watch it entirely, at least these self-made highlights provide much more details than a Sportscenter clip!
Thanks again to Cyberlink for providing the software as well as the DVD with the baseball game. Can't wait to see what future sports or shows they incorporate into