Vizio Launches M-Series Passive 3D TVs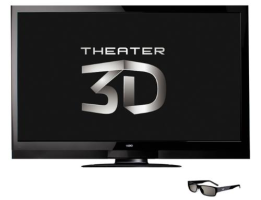 Vizio has a nasty habit of releasing surprisingly good televisions at a given price point and they are hoping to do it again with their new M-Series line of TVs. The Vizio M-Series TVs are edge-lit LED LCD TVs, but their most intriguing feature is their passive Theater 3D technology. Vizio is promising that Theater 3D will produce flicker and artifact-free 3D, and the glasses should even be good to use in theaters using ReadlD 3D. Popular Science certainly likes what they have seen of Theater 3D. Anyone else interested in giving Vizio's passive 3D solution a try?
Last CES Vizio announced a slew of new LCD HDTVs with its passive glasses-compatible Theater 3D capabilities and Vizio Internet Apps built in, and now it's finally ready to announced the M-series midrange lineup is shipping nationwide.