Get HDR working on Vizio P65-E1 over longer HDMI cables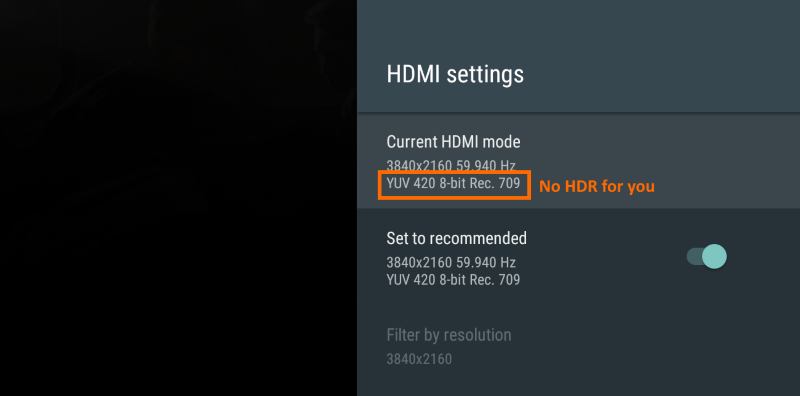 Having recently upgraded to the Vizio P65-E1, we have been pleased with most aspects of the display – except for one really annoying problem where it would not negotiate a 10/12-bit UHD 4K resolution with any device whenever a longer HDMI cable was used. Vizio has been really helpful trying to run down the problem (even replacing the set), but we've only just found a work around. So I thought it would be great to document that here, and potentially save others some hassle.
It is easiest to see the problem using screenshots from an NVIDIA Shield TV, so that is what is displayed here. With the Vizio P65-E1 refusing to include 10 or 12-bit @ 59/60Hz in the list of supported resolutions whenever I attached a cable longer than 15′. As an additional oddity, if the HDMI cable is unplugged, and plugged back in, while everything is on – then it would offer the HDR enabling bit depths at higher refresh rates. Given this scenario, the root cause is most likely a timing issue in the startup negotiation process.




The solution to this issue, is oddly enough, to enable "Full UHD Color" on all of the UHD capable HDMI inputs (1-4). Even when nothing is connected to the other inputs. Unfortunately, you will need to have something attached to the HDMI port temporarily to make the change. But it is easy enough to swap the device connected to HDMI 1 into each location long enough to make this configuration change. It would have never occurred to me to try this, so a big thank you to the Vizio support tech who suggested it.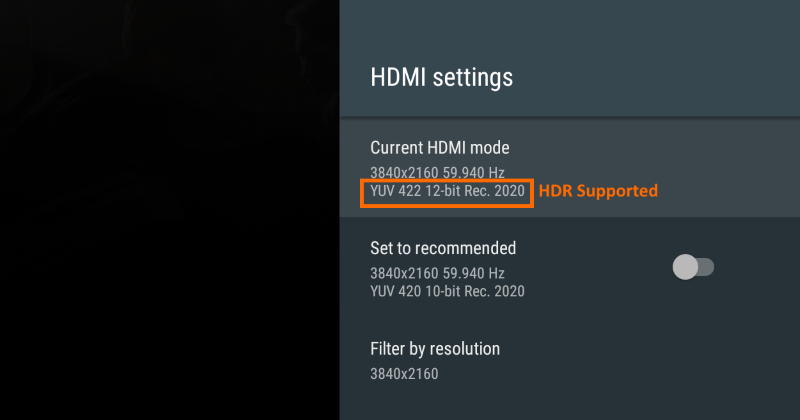 Once complete, the TV will offer all of the supported resolutions. Including the HDR capable YUV 422 12-bit Rec. 2020.
Auto Amazon Links: No products found.