nerdytec Couchmaster Cycon Ergonomic tech seating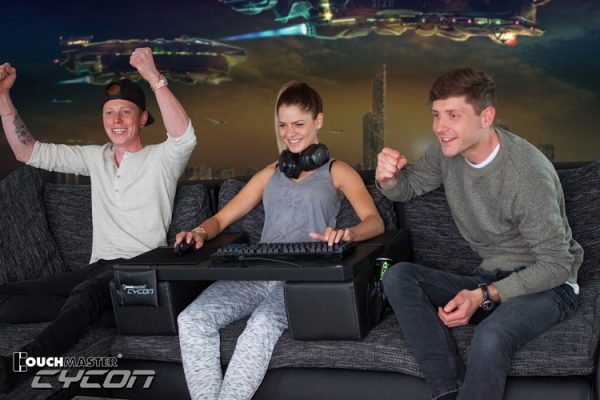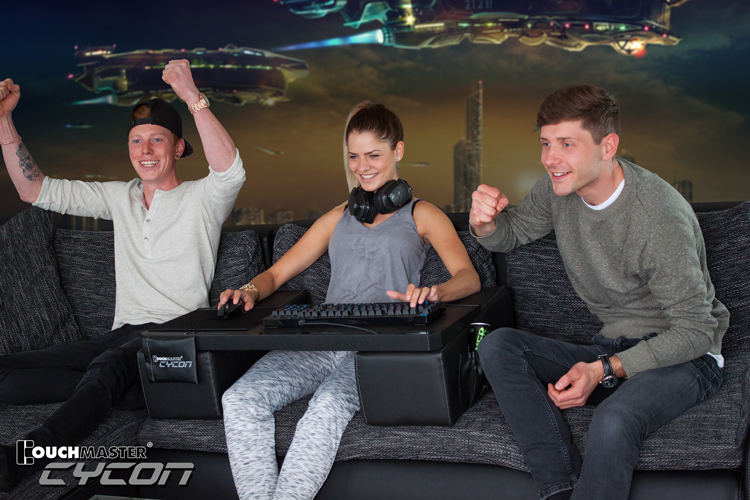 As a frequent couch keyboard, mouse and laptop user I always put my devices on my lap or a couch cushion. A lap or couch cushion is not the most ergonomic solution but readily available. The nerdytec COUCHMASTER Cycon retails for $149.00. It is an intriguing lap desk concept to solve the ergonomics of marathon computer and gaming sessions.
As I am more of an HTPC user I sought feedback from some Gamer friends. I have to thank my friends Matthew and Asher Hoeveler for their Gamer Couchmaster user feedback. They were very helpful in accessing how they would use the Couchmaster, what they liked, and areas of improvement. Their feedback is noted in the article.
Device
In the box there are two leather-ish covered support cushions, a mouse bag, a plastic support case, a 5m USB extension cable, a shorter USB cable used to power the desk, Velcro tape, a mini screw driver (in case you do not have one) and a mouse pad. Everything was well packaged.





It took me about 20 minutes to put it together, between unboxing and connecting all the cables. The desk has four USB 3.0 ports, USB B port for power, and an AC barrel adapter. USB B, three USB 3.0 ports and AC Barrel Adapter are inside the cable management storage and one USB 3.0 port on top of the desk. There are columns inside the cable management space for wrapping long cords. On the top of the desk there are two holes in the middle spaced for feeding peripheral cables.
Assembly was not difficult. I have a significant gripe. The slot covers for the cable management are screwed into the desk. I had to unscrew ten tiny screws to remove the covers, which took the bulk of the set-up time. This is a minor annoyance during initial setup. If I wanted to frequently change out devices connected to the desk it would become a major annoyance. It would be better if the covers snapped or slid in to the back of the desk. That would also remove the need for nerdytec to ship a tiny screw driver with the Couchmaster.
One of the items my friends pointed out is the USB port placement. They would like to see more ports on the top of the desk. The one USB port on the desk top worked fine for a headset. There are other peripherals one might use in addition to a headset, such as gamepads and flightsticks that you would not want to be constantly cabled. As such there should be a minimum of two ports on the desk top, preferably more.
Use
Once the Couchmaster is assembled it is easy and flexible to place the cushions and position the desk. I opted to attach some of the included Velcro tape to the cushions and desk underside to keep the desk from sliding around. Though the instructions mention possibly using the Velcro to keep the keyboard and mousepad in place.










I set it up on my living room couch where I have an HTPC connected to a 65" TV. The cushions provided ample and comfortable support for my arms. Sitting with the Couchmaster I was able to comfortably navigate my computer from my couch; internet browsing, play a web game, and watch TV. I swapped my keyboard and mouse for my laptop. It seems like overkill for a laptop but it was comfortable.
The positioning on the Couchmaster pushes you to lean back on the couch back rather than slouching. It certainly meets its ergonomic goals. Both my friends and I thought, though there is a pouch on the side of a cushion for drink cans and snacks, it would be nice if there were a standard size cup holder in the cushions or the desk. Once you are positioned with the Couchmaster getting in and out of it is a bit of an exercise.
As an HTPC user I do not use wired peripherals. I have a wireless keyboard and mouse.  My HTPC is hidden behind the media center cabinet closed doors. Running the USB extension cable means opening my media center cabinet and risking my one-year old diving in head first. I would want to be able to charge my phone or other various USB powered devices. I have an outlet on the wall behind my couch. I was curious if the Couchmaster would work from an outlet USB adapter.
I tested it with my iPhone with and without the USB extension while attempting to power the desk from a USB adapter. It does not work from a USB adapter. There is an AC barrel adapter next to the USB B port. The nerdytec AC adapter is only available as an extra accessory. My Gamer friends pointed out that some Gamer power requirements may necessitate AC assistance. If you anticipate wanting to power devices such as a phone or gaming peripherals that need AC assistance you will need to pick up the adapter too. I would like to see this included as standard with the Couchmaster.
As it is the Couchmaster seems best suited to a dedicated gaming space rather than a shared, multi-purpose living or family room. Not everyone is going to have a computer next to the couch with attendant cables running on the floor to the TV.
Given Couchmaster's size and design intention for wired peripherals to remain connected; how is it supposed to be stored? The cushions can be turned on end to store on a couch end. Storing the desk top is a conundrum. The only storage bag on the desk is for the mouse. The mousepad and keyboard can be attached to the desk with Velcro tape. What about storing other wired peripherals, such as flightsticks, gamepads and headphones? My friends suggested maybe a removable elastic net might be a better option to keep all wired peripherals from sliding around. Right now, the only options are to attach them all with Velcro tape or store the desk flat.
Conclusion
Overall the product has a nice look and feel. The side cushions are comfortable and provide ample arm support. There is plenty of space on the desk area for peripherals and whatever else you may want to be comfortable.
Pros:
Ergonomic seating
Comfortable for marathon sessions
Plenty of device space
Cons:
Cable management covers attached by screws
Bulky
AC adapter extra
Insufficient USB ports on the desktop
Thanks to nerdytec for providing the review sample.