SVS announces SoundPath Wireless 65′ capable 16-bit/48KHz Audio Adapter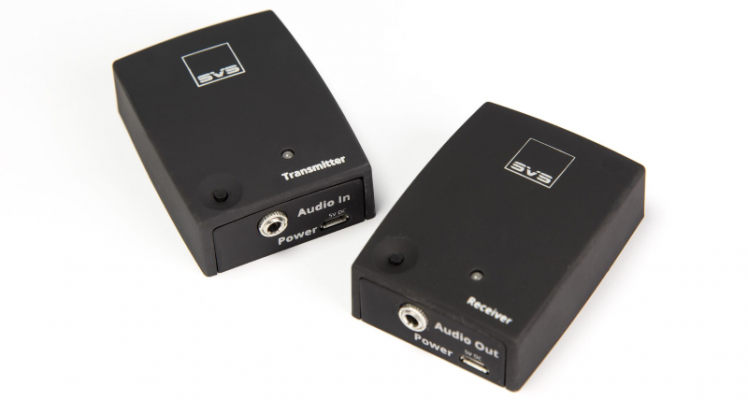 If you have one of those "challenging" rooms. You know the kind, where doing the "crawl"  puts your subwoofer in the most difficult to wire for location. SVS has just announced a solution for this problem: the SoundPath wireless audio adapter. With the ability to send 16-bit/48KHz up to 65′ feet without the need to drag an RCA cable across the floor, it should work for almost any consumer install. I haven't run down what the underlying technology is (not WiSA or AVB), but it is clear that this is a slick mechanism to get better sound from your home theater. The $90 device is primarily intended for subwoofers, but since it passes a full range signal, if you can't run wires for your other speakers either, it can also be used for surrounds or Atmos – provided you can amplify at the destination.
SVS Launches SoundPath Wireless Audio Adapter

Quick and easy to install, the SVS SoundPath Wireless Audio Adapter adds wireless connectivity to subwoofers and transmits a full-range audio signal at CD quality up to 65-feet making it a great solution for speakers, amplifiers and more.

Youngstown, OH – April 30, 2018 – SVS, manufacturer of high-performance speakers, subwoofers and audio accessories, proudly announces the SoundPath Wireless Audio Adapter for subwoofers, powered speakers, amplifiers, TVs, streaming media consoles and more. The new SVS SoundPath accessory sends an LFE or a full-range audio signal at 16-bit/48KHz up to 65 feet, making it easier than ever to enjoy immersive sound in a home theater or anywhere in the house with fewer cables and wires.

Subwoofer placement issues and cable clutter are a thing of the past with the SoundPath Wireless Audio Adapter. Easy to install and use, simply connect the transmitter to an AV receiver, TV audio output or other audio source via RCA interconnect; connect the receiver to a subwoofer, powered speaker or loudspeaker amplifier, pair the two devices, and the SoundPath Wireless Audio Adapter sends a CD-quality 16-bit/48KHz signal with no cables or wires required. For added versatility, up to three adapters can be paired to create a multi-room distributed audio system.

Subwoofers are often the largest component in any audio or home theater system. With the SoundPath Wireless Audio Adapter, SVS expands subwoofer placement options and decreases cable clutter without sacrificing performance. Because the adapter's rated frequency response for transmission is 6 Hz to 22,000 Hz +/-1 dB, it also adds wireless connectivity to a stereo speaker zone and home theater surround sound applications at ultra-low latency (<25.5 milliseconds) within the 2.4GHz frequency band.

"SVS engineered the best performing wireless subwoofer adapter available and then made it better by designing it to pass a pristine and accurate full-range audio signal for the benefit of speaker owners," said Gary Yacoubian, SVS President and CEO. "The SoundPath Wireless Audio Adapter reduces subwoofer cable clutter without sacrificing performance better than any solution available, but it also unlocks wireless connectivity for a stereo zone, powered surround sound speakers and amplifiers, and solves placement and aesthetic issues."

The SVS SoundPath Wireless Audio Adapter Kit is available now for $89.99.