SVS 3000 Micro Subwoofer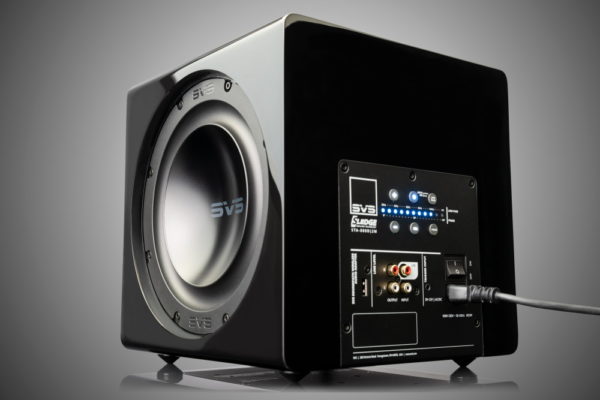 Adding a sub to your audio solution is one of the best things you can do; especially if you have small speakers. Of course, one of the big challenges with great subwoofers, is that historically they take a lot of space. SVS sorted that, within the limits of physics ;), with the 10-inch SVS 3000 Micro. There's a lot of technology on offer here, borrowed heavily from SVS's amazing (both in performance and value) family of high-end subwoofers. If you're space limited, definitely worth a listen.
SVS Announces 3000 Micro. Reference Subwoofer Performance Just Went Micro.

Chest-pounding, musical bass with accuracy and depth from a shockingly compact 10-inch cabinet that fits anywhere. The miniature yet mighty SVS 3000 Micro subwoofer seamlessly blends into any room and speaker system, energizing the space with astonishingly rich, effortless, and detailed bass that's all the more impressive given its micro-sized enclosure.

Featuring innovations from the reference SVS 16-Ultra subwoofers married to fully active dual opposing 8-inch drivers, and an 800 watt RMS, 2,500 watt Peak Power Sledge STA-800D2 amplifier with discreet MOSFET output, 3000 Micro delivers performance that obliterates every micro subwoofer imposter that has come before. It also features the SVS subwoofer control smartphone app for advanced tuning of the DSP.

March 19, 2021 – Youngstown, OH – SVS, leading manufacturer of high-performance speakers, subwoofers, wireless audio, and accessories, proudly announces the new 3000 Micro subwoofer. Like a magic trick, the 3000 Micro goes where no micro subwoofer has gone before, delivering chest-pounding, room-filling low frequency output for music and movie lovers with accuracy and precision, from an astonishingly compact 10-inch cabinet.

Engineering a subwoofer capable of output you can feel at the lowest frequencies, while maintaining effective thermal and energy management in a micro-sized enclosure, has always been the challenge for manufacturers. The category has been burdened with weak output, distortion, a disappointing user experience, and uncontrolled movement of the cabinet. Micro subwoofers have even been known to "dance" across a room.

3000 Micro answers the challenge with a potent set of innovations packed into a compact 10-inch cabinet. Starting with the drive units; fully active dual opposing 8-inch SVS drivers unleash heart-pounding low end with pinpoint control. By firing in opposite directions in unison, the mechanical energy transferred to the cabinet is effectively canceled out. This creates a sonically inert enclosure and solves the curse of micro subwoofers moving around a room.

The active dual drivers are connected in parallel to a single power amplifier. Both drivers receive the exact same amount of current ensuring precise, accurate bass, without distortion. A progressive inverted surround allows for maximum excursion and is critical to moving massive amounts of air and generating sound pressure levels you can feel at the deepest frequencies from such a small enclosure.

Drivers are only potential, of course, and require an equally capable amplifier. SVS engineers applied groundbreaking innovations from the reference SVS 16-Ultra subwoofers to create the Sledge STA-800D2 amplifier with discrete MOSFET output that combines the high current output of MOSFET transistors with Class D efficiency. Boasting an impressive 800 watts RMS and 2,500+ watts peak power and vanishingly low distortion, the unique design unleashes nearly limitless on-demand current to the active dual driver array, while maintaining pinpoint control. 3000 Micro handles demanding bass content effortlessly, while always remaining accurate in frequency response.

Harnessing the massive power of the Sledge amplifier is a 50 MHz Analog Devices Audio DSP with 56-bit filtering, the most sophisticated DSP engine available in a home audio subwoofer. The abundant processing power maintains pristine sound quality that's faithful to the source material through advanced in-room tuning, optimized frequency response curves, powerful DSP controls and more. This level of processing power is an anomaly at this price range and plays a key role in maximizing the 3000 Micro subwoofer's real-world potential.

3000 Micro also features convenient control and custom presets via the SVS subwoofer DSP smartphone app for Apple, Android and Amazon devices. The SVS subwoofer app is the most convenient way to control volume, access multiple DSP functions and program custom presets for one-touch tuning optimized for music, movies, gaming, and more. Uses can also adjust crossover frequencies, a three-band parametric EQ, polarity, room gain and more, all from their favorite seat.

The SVS subwoofer app allows naming of subwoofers in the case of duals, and custom presets for easy switching between listening modes. Users can also place in standby mode and reset to factory settings. Bluetooth connectivity allows full control, even when the subwoofer is out of sight and bi-directional feedback shows adjustments in real time on both the app and rear panel subwoofer interface.

Subwoofers capable of such extreme performance levels require equally formidable cabinet designs so the 3000 Micro features extra thick MDF side baffles and rigid internal bracing to support the active dual driver assembly and to ensure an acoustically inert environment. The highly reinforced internal design eliminates any chance of coloration or resonance from the cabinet, even when the deepest low frequencies are played at high volume. SVS opted against using a passive radiator dual driver design deployed in many micro subwoofers because of their reputation for bloated, one-note bass.

"For too long, micro subwoofers have been imposters in the category with disappointing output, compromised sound quality, flawed engineering, and other performance issues," said Gary Yacoubian, SVS President. "In the world of subwoofers, the 3000 Micro is like a magic trick. Its massive output, impressive extension, and pinpoint accuracy from such a small enclosure is unprecedented and further cements SVS' legacy of setting the performance bar with every new product."

SVS 3000 Micro features subwoofer technology from the flagship 16-Ultra Series, 4000 Series, 3000 Series, and 2000 Pro Series subwoofers, recipients of nearly every industry award from 2017-2020 respectively, including the CES Innovations Award for High Performance Audio and the Expert Imaging and Sound Association (EISA) Best Home Theater Subwoofer award the past four years running.

Yacoubian continued, "Home theater and HiFi lovers have been waiting for a lifestyle-friendly subwoofer that can fit anywhere and actually deliver a reference listening experience. I'm so proud of what our engineering team accomplished, a micro subwoofer worthy of the name SVS."

3000 Micro is priced at $799.99 and comes in a stunning Piano Gloss Black or Piano Gloss White finish. The new subwoofer is available now from svsound.com and retailers nationwide.

SVS 3000 Micro Quick Specs:

Frequency Response: 23Hz to 240Hz +/-3 dB
Dimensions (including grilles and feet): 10.9" (H) 11.7" (W) 10.7" (D)

For more information, please visit www.svsound.com  or follow them on Facebook, Instagram, YouTube, Pinterest or Twitter.

About SVS

Headquartered in Youngstown, Ohio, SVS high performance subwoofers, speakers and audio accessories deliver thrilling and immersive audio experiences and unmatched performance for the price. SVS engages customers worldwide through direct and retail sales channels and offers Sound Experts technical support seven days a week via phone, web, social media, chat, email, in forums and wherever people want to connect.