NVIDIA SHIELD Android TV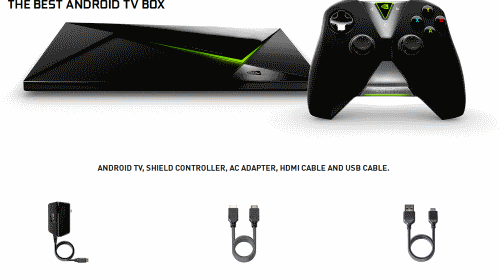 Let me start by saying, I am not much of a gamer. So while the NVIDIA Shield Android TV box has been out for a while, offering 4K UHD support for native playback and over-the-top (OTT) services like Netflix, the value proposition really did not speak to me given its $200/£150 (16GB) $300/£220 (500GB "PRO") price tag. The landscape for the device changed recently with major feature additions in the form of Plex media server and SiliconDust HDHR DVR recording engine support; turning this gaming-streamer into a legitimate home theater PC (HTPC) alternative.
Device
The NVIDIA Shield Android TV device is just about the perfect size for home theater use. However, given the game console billing I was expecting something a bit larger. For the DVR use case I opted for the 16GB model, as adding additional storage via one of its two USB 3.0 ports was always part of the equation. There is also a 500GB version available, but with the large price difference and the fact that is not really enough for TV recording, I did not see the appeal. USB keyboards/mice are also supported, making it much easier to get things setup and running – especially if you use a complex password.
Account setup can be done on PC or on the Shield, but I wasn't able to make the PC setup work the first time. It does work sometimes though, as it worked great the second time I setup the device.
Can use a USB keyboard/mouse on device, even during setup (great for entering passwords).
The range for wireless USB keyboards/mice wasn't as good as it was with a PC and was a bit flaky at times.
Can use Bluetooth keyboard/mouse
Aside from the account setup issues, the first-run is really good. Simple, straight forward and the NVIDIA Shield updates as part of the setup process.
Can only login with one Google account, so if [like me] you have a different regional accounts, you will be locked to one.
You can work around this to some extent by logging in with one account, installing the regional apps (e.g. BBC iPlayer), then logging back in with the other account.
Google Play Video content cannot be downloaded locally. This was a real let down for me. I had hoped to use the Shield as a portable movie player that I could bring on holiday.
The NVIDIA Shield can output RGB or YCbCr 4:4:4.
Shield always enables HDCP.
NAS shares have to be attached to the Shield for Plex to use them.
Network mounts are unreliable, you have to periodically restart the Shield to get them working again.
Does not support network mounts (shared folders) with a space in the name. I had to create alternate names for several shares (e.g. "Kids Movies" -> "KidsMovies").
I like how local content from different apps can be integrated into a whole device experience. It makes for a much less siloed experience compared to most of these types of devices. Plex is currently the only 3rd party app that does this (or does it well enough to notice), but it's great that it's there.
Is a casting endpoint (i.e. it is also a "ChromeCast")
Voice integration works as well as it does on Android devices.
Controller needs to be turned on for voice integration/commands to work
Controller locks up sometimes, and occasionally refuses to connect to/control the Shield.
Controller sometimes fails to turn on from power off. When that happens, you have to unplug and plugin the Shield. It will turn on automatically when this happens.
Love the IR feature, but it is only active when the Shield is in standby or on. You cannot turn on the Shield from a power off state via IR.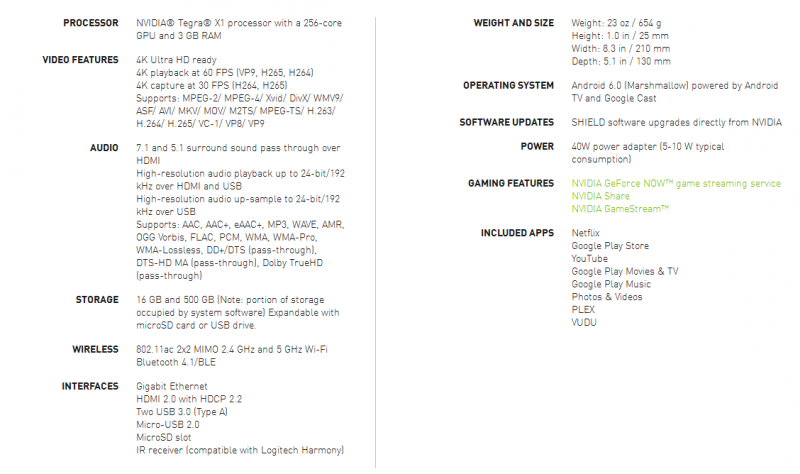 No issues were noticed with temperature or fan noise.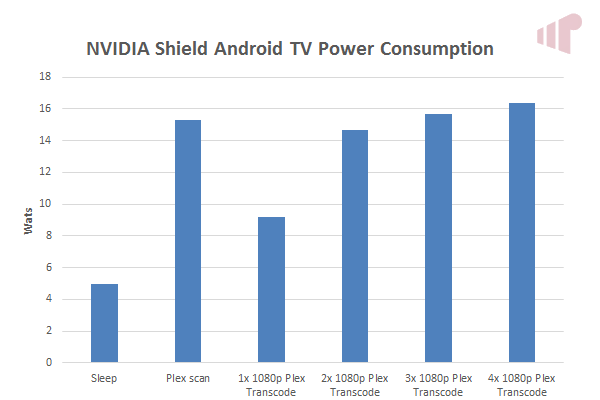 Power consumption was also quite reasonable while on, but standby is not a real low power state. It appears to just turn off the display. I would prefer it if it went under a watt when it was not in use.
Plex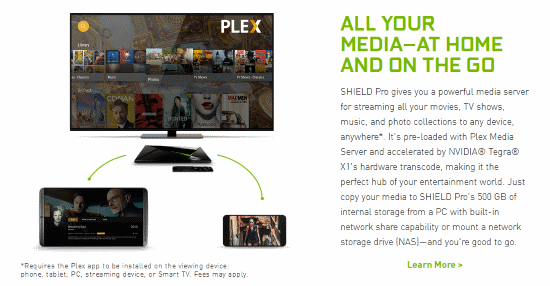 Plex media server was one of two major features that piqued my interest in the NVIDIA Shield, especially with the ability to do hardware transcoding. When it works, it is fantastic. I was able to reliably stream four 8Mpbs 1080p transcodes at a time without any issues – provided that the audio was not Dolby THD. Lowering the bit rate/frame size to 4Mbps/720p made no difference, so it is likely to be hard session limit. Magnificent, when it works. Unfortunately, the issues with Dolby THD are not limited to remote transcodes either – they also do not play on the Shield. With a significant number of Dolby THD titles, this is a blocking issue for me. Otherwise, playback on the device in Plex is generally quite good.
Bit streaming works
Refresh rate changing works
Video levels (blacker-than-black / whiter-than-white) are properly represented
Had some issues with recorded PAL TV content, where it would just refuse to play a file that worked fine on a PC
You cannot install custom channels; like HDHR Viewer
HDHR DVR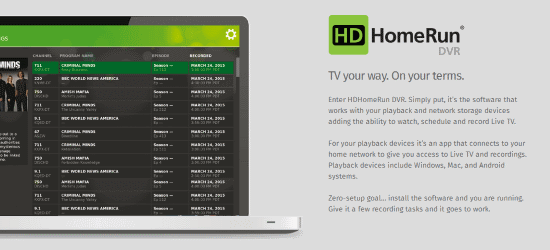 SiliconDust HDHR DVR was the other major feature of interest. The NVIDIA Shield has long been the best supported [non-PC] playback device for the HDHR DVR, but it only recently added recording. There is not much to say besides it just works. The only differentiation between this and a PC was that it is quite a bit more difficult to view the files on another system without using the HDHR View application (i.e. you cannot just map a share to it). I tested it with a full size 2TB USB 3.0 external drive, but it should work with a 2.5" as well. SiliconDust recommends a Western Digital My Passport, which would have a much cleaner footprint than what I used. Well done SiliconDust.
Kodi
I was initially very disappointed with the state of file playback on the NIVIDA Shield. Plex refused to play some files, and the release version of Kodi did not bit stream and was also really quirky about refresh rate switching. Then I found the v17 "Krypton" beta (really alpha) version of Kodi in the Google Play store. Even though it is still quite rough around the edges, it sells local file playback for the device adding bit streaming and producing less flaky refresh rate switching. When this is stable, it will be awesome.
Bit streaming works
Refresh rate changing works
Video levels (blacker-than-black / whiter-than-white) are properly represented
Deinterlacing support is decent. Not quite as good as what we see on a modern Intel GPU, but close enough for most
Over-the-top (OTT)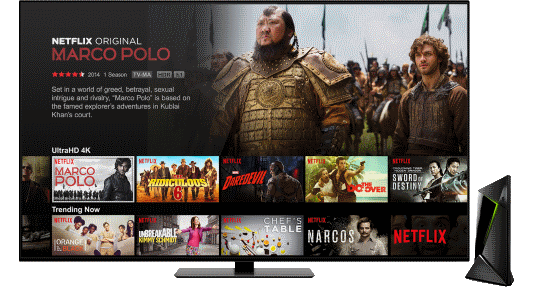 Access to OTT content is good, and generally works really well. With a wide array of sources available including Netflix, VUDU, HBO Go*, Disney Movies, etc. There is one glaring exception – Amazon Instant Video is AWOL. There are a couple workarounds available though, but neither supports DD+.
I prefer the Sony app as it is much cleaner and consistent with the experience on Smart TVs. Naturally, Google Play Video and Google Play Music support works really well, but unfortunately (as was mentioned earlier) videos cannot be downloaded on the device – which is a huge disappointment.
* Comcast does not support HBO Go on Android TV. For shame, Comcast**, for shame.
** HBO probably deserves a shaming here too, since they built the platform which allows this sham to exist.
Gaming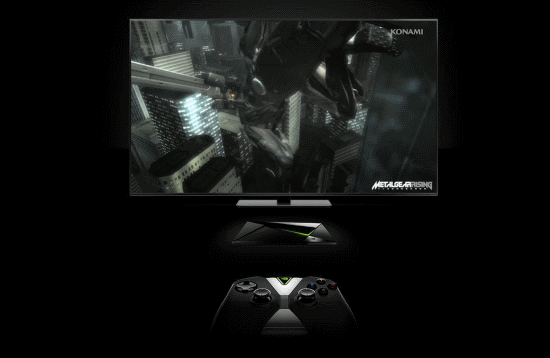 Again, I am not much of a gamer, so this bit is based solely on the observations of my two sons – who "tested" it for me. Most of their comments are framed in the context that we also have a Sony PlayStation 4 (PS4).
Games are generally decent, but the play and picture quality is not quite at the same standard as a PS4
Likes the controller better than the PS4; hand feel (note kid hands), responsiveness, etc.
Some issues with games that expected a keyboard (virtual or physical) for initial setup
Conclusion
The NVIDIA Shield Android TV is hands down the most capable media streamer I have ever tested. The interface is fast and intuitive, with so many client features including OTT channels (notably missing proper support for Amazon Instant Video), gaming, and local file playback via Kodi v17 "Krypton". At $200/£150, the 16GB model is very appealing even if used only for media consumption. Adding in the server capabilities, especially SiliconDust HDHR View DVR support (Plex's poor support for Dolby THD is very disappointing), even more so. The $300/£220 500GB "PRO" model seems overpriced for what it adds; a microSD card or external HDD accomplishes the same goal for less. I would skip that one.
All that said, I do not think it does the NVIDIA Shield Android TV justice to just call it a media streamer. While it does not provide the same level of customization and flexibility as a real HTPC (plus and minus), for most it will meet the underlying requirements that forced HTPC use in the past while providing a better general OTT experience. In fact, since the Shield arrived, I have wondered more than once if there was anything besides stubbornness keeping the HTPC still in my A/V stack. Only time will tell.
Pro:
Closest thing to a HTPC replacement ever tested
Kodi v17 "Krypton" (still Alpha) provides outstanding file support with bit streaming and refresh rate switching
Value for features
Con:
No supported Amazon Video solution
Plex doesn't like Dolby TrueHD
Controller is really flaky
Standby power is high
Emby is a hot mess on Android TV