Vizio Co-Star Reviewed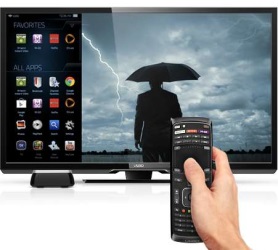 Just when it was beginning to look like the second wave of Google TV was going to fizzle out before we could even get to the holiday shopping season due to a lack of new hardware, along came Vizio with the Google TV-powered Co-Star to rekindle interest in the platform. Vizio has taken the unusual move of only offering the $100 Co-Star online through their website, rather than taking advantage of their usual 1-2 retail power punch of Costco and Walmart, which might be part of the reason that reviews have been slow to trickle out. Fortunately, our friends at GigaOM not only put the Co-Star through its paces, but did so for an episode of Cord Cutters, so not only can we learn their opinion of Vizio's first take on Google TV, but we get to see it in action as well.
Vizio's Co-Star is the company's first Google TV device. How does it stack up to Roku, Apple TV and other media streamers, and how well does it work for cord cutters? Check out our video review for a detailed look at the device.