IOGEAR's Releases Wireless 3D Digital Kit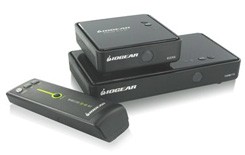 Well it seems that wireless HD technology is advancing. While there have been several products released that allow for the wireless streaming of HD signals over HDMI. Many of these have been hampered by a lack of ability to handle 3D content, requiring line of sight in order to operate effectively or not being able to handle full surround sound audio. For just 379.95 IOGEAR hopes to solve all those problems and more:
It's like the company's CES-launched GW3DKIT, but with a dash of "HD," a spit shine and a realistic shipping date. IOGEAR's GW3DHDKIT has just been revealed to 3D-lovin' content watchers the world over, with the Wireless 3D Digital Kit consisting of a transmitter and receiver with connections that enable it to stream standard, HD or 3D resolution content from one or two HDMI-enabled devices.
So those of you who need to be able to send 3D content over a long distance and don't have the ability for a long HDMI cable you will be able to solve all your problems by the end of the year.