Warpia Easy Dock Pro – Wireless USB Docking Station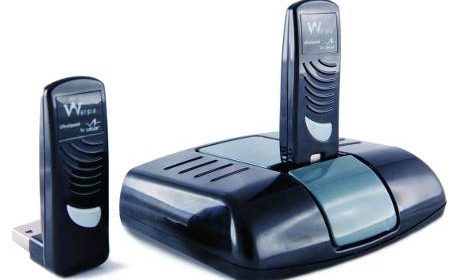 At missingremote.com, we look at many different options for improving your TV and video options to give you the best deal and try to give you the best reviews for such items like brite-View, Veebeam, IOGEAR and Warpia. This review is for the Warpia Easy Dock Pro, a device that can double as a laptop docking station or give you options to share out your desktop to your larger display in the same room. Sometimes you want to give your laptop the duties of a desktop without tying it down with any wires. Follow me on the journey to wireless freedom and see all the options and obstacles in the way. Are you ready to try Wireless USB with the option of video at the same time?
Specifications
Wireless Technology:

Wireless USB 1.0, USB-IF certified, Certified WiMedia PHY and MAC

Radio Frequency:

3.168 to 4.752 GHz (WiMedia band group 1)

Connectors:

PC or Device

● USB type-A male

Docking Base

● DVI Video Output (convertible to VGA via included DVI to VGA adapter)

● Two USB inputs for use with Mouse, Keyboard, Printer, USB Memory Stick, etc

● 3.5mm stereo audio out jack

● 32-bit True Color support with display resolution of up to 1920 x 1080 (SXGA+)

● Capable of working in both Mirror Mode and extended Mode (TV/monitor as a second screen)

● Power Supply Unit 5VDC

Operating Range:

Up to 9.144m (30ft) direct line of site.

Resolution:

Up to 1920×1080, HD Video up to 1080P

Operating System:

● Windows XP (32 bit only)

● Vista (32/64 bit)

● Windows 7 (32/64 bit)

● Mac OS Leopard 10.5.8

● Mac OS Snow Leopard 10.6

Full screen video streaming up to 720P: Intel Core2 Duo 1.8Ghz with 1GB Memory

Full screen video streaming up to 1080p: Inter Core2 Duo 2.4Ghz with 2GB Memory

Basic Internet browsing, pictures, office use, etc: Intel Core Solo 1.6Ghz with 1GB Memory

Compliance:

US, Japan, Europe, Korea

Security:

128-bit AES

Operating temperature range:

0-40 C

Input Voltage:

100-240V, 50/60Hz
What's in the Box?
● 1x Wireless USB PC Adapter
● 1x Wireless USB Device Adapter (plugs into Docking Base)
● 1x Docking Base with DVI connector, 3.5mm audio jack (Stereo), and two USB inputs
● 1x DVI to VGA Adapter
● 1x Quick Start Guide
● 1x CD with software, drivers and user manual
Design
The Warpia Easy Dock Pro is compact by design. The only thing connected to the PC is the wireless USB adapter that has a pivoting joint on it; thus, it doesn't matter which USB port the device is plugged into,as the device will be able to rotate the antenna to make sure it has the best line of site. The "docking station" is where you would leave the monitor, keyboard, mouse, speakers, and power plugged in at all times–it takes up very little space on the desk. With some docking stations for laptops being large or some not even giving you the port to dock, it makes the Easy Dock Pro a viable alternative. The wireless adaptor that plugs into the docking station has two spots to plug it into–you can have it on the top or keep it flat. There are also mounting holes on the back of the docking station to give you the option to mount on a wall or behind a TV.
Setup
The setup requires the disc or a download to make it work. If you plug in the USB adaptor to the computer before inserting the disc, the software will have you unplug it before even beginning the installation. Once you have the software installed, you plug in the USB adaptor and it will discover the Monitor/TV, mirror your current display, and then it will install the keyboard and mouse that you have plugged into the docking station. If your mouse is a Microsoft product, then the machine will try to download the necessary drivers and software. If you have previously used those devices with that machine before, then your installation will be much faster. Once you have setup the devices the first time, it will remember your setting and devices every time you use it thereafter. You are able to use the Windows 7 extended monitor mode if you want to make it a second individual monitor. Windows will see it as another monitor and you can completely control it like you would when plugged directly into the PC.
Testing & Usage & Range
I tested the range of the Warpia Easy Dock Pro several ways. I measured out 30 feet and was able to use it beyond the range, but only if I stayed within direct line of site of the docking station. Once I moved something or myself in front of the unit, it would stop almost instantly. As the distance decreased, I could be in front of the unit and it wouldn't cause any issues. When I tried it with other objects that would normally be in a living room or office, there were issues. I tried to put a chair in front of the unit and it was just fine until about 20ft, and then it would cut in and out. When placed behind a normal wood stud wall, I was having problems even at 15 ft.
Accuracy
You will notice the video goes out when the distance is too great. The 30ft suggestion is pretty accurate as long as you stay in the line of sight of the docking station and no objects stray in front of the unit as previously mentioned.
Form-Factor
The form factor of the docking station is about the size of a Hersey bar, and the wireless USB for the computer end is about the same size as a flash drive. All the cables on the docking station side would be the biggest part, but once you have it setup you won't be changing it.
Usability
I set up two different scenarios and both seemed to worked quite well. The first was to have my laptop in the basement and the docking station connected to the big screen and playing video files off a network attached storage (NAS) to the TV for the kids over Wi-Fi. I did not notice any problems from the device and the picture was nice and clear. It was a clear shot to the TV and there weren't any obstructions.
The second scenario was hooking the unit up to my desktop and moving it over to a second room. The desktop is on the other side of the wall and out of sight, approximately 10 feet from the docking station and with a wall in the way. I plugged a keyboard/mouse combo receiver into one of the ports in the back of the unit and an IR receiver into the other. I was able to control and watch Windows 7 Media Center (WMC) shows without issues. The only issue I had was that if someone walked between the two I would see a slight black picture and then the picture would come back. I did try to move the computer to a second room about 20 feet away and I was not able to keep a connection to the docking station.
Conclusion
The Warpia Easy Dock Pro would work very well in an office or a household, with the biggest hurdle being to keep a clear line of site. I would gladly recommend this to anyone looking to have a second screen or projector in their office without wanting to run any wires, although power would have to be accessible. If you are planning on having a floating TV on a wall and want another option for connecting a laptop or desktop, this could be a cheaper option. The ideal situation–and the main target for this product–is for those using a desk everyday and without a laptop docking station, so that you can connect it with the Warpia Easy Dock Pro and not need to use your laptop's keyboard/mouse/screen all the time.
Pros:
● Good range (If nothing is in the path)
● Supports resolutions up to 1920×1080
● Gives you an option for external audio
● Cross platform
● Fully standard solution (Wireless USB from the USB-IF)
● Easy to use, once setup the first time, saves settings
● Retails for only 149.99 but you can find it for $100 in many places
Cons:
● Less range when objects are interfering
● The disc or download is required even with Windows 7
● Constantly flashing light that is very bright
● May confuse some people on initial setup
Thanks to Warpia for providing the review sample.