Warpia Announces New Value Edition StreamHD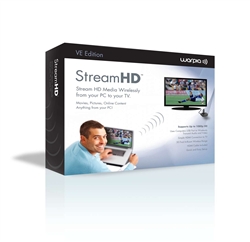 Today Warpia is introducing a new value edition of their StreamHD wireless audio and video streamers. The SWP110A is a cheaper and less featured filled version of its older brother the SWP120A, which we reviewed back in july. Retailing at 129.99 the StreamHD Value Edition lacks the ability for optical or 3.5 inch audio connections, requiring that all audio be transmitted through the HDMI cable. While not a huge difference the price savings are a nice bonus for those users who don't require those connections.



San Jose, CA. – (October 27, 2011) – Warpia, a premier technology brand dedicated to delivering intuitive connectivity solutions, announces the StreamHD Value Edition (StreamHD VE), a lower cost version of their popular StreamHD. The StreamHD VE with HD video and stereo audio enables users to stream any content from their notebook or PC wirelessly to an HDTV in 1080p full high definition. Content such as streaming video, pictures, movies, presentations, Facebook, Twitter and other applications can be shown on your HDTV in the room without the hassle and clutter of wires while you continue to use your laptop screen to surf the web, check email, and more.



As mentioned in our review the StreamHD products perform well for the price given the right usage scenario's. However if you require playback of Blu-ray movies and can't live with a bit of judder in your 7MC television content, then the Warpia might not be the best fit for you. However, for others it seems like this product is a fantastic deal, and the value edition gives another cheaper option for those with HDMI only setups.