ASUS CES 2016 announcements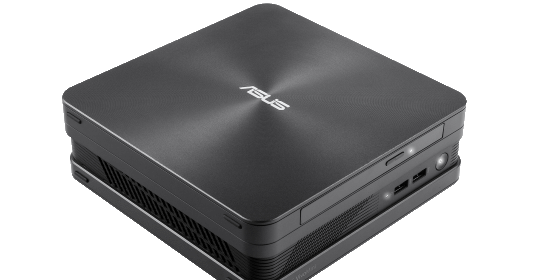 I think ASUS forgot to mention HTPC as a key use case for its recently announced mini-PCs. Looking at the spec's and product photos, they would slot right into the A/V cabinet :).
VivoMini VC65 Series
ASUS' VivoMini VC65 Series PCs are the world's smallest with support for up to four storage devices and RAID functionality, making them ideally suited as NAS devices and mini server systems. Their modular design accepts up to four modules, which are configurable with two additional storage drives, an additional optical disc drive, or a combination of both. Powered by 6th generation Intel® Core™ processors, VC65 PCs can easily handle a wide range of computing tasks.

VivoMini UN65H
The ASUS VivoMini UN65H is a mini PC designed to deliver fully functional computing for the home or office in an ultra-compact, lightweight, and elegant form factor. Powered by the latest 6th‑generation Intel® Core™ processors, the VivoMini UN65H gives users a combination of outstanding performance and incredible energy efficiency.

The VivoMini UN65H features dual storage bays that users can configure with up to a 1TB 2.5-inch hard disk, up to a 256GB M.2 solid-state drive (SSD), or a combination of both. Native support for PCI Express® M.2 SSDs enables fast data transfer speeds of up to 10Gbps. The UN65H also comes with lightning-fast 802.11ac Wi-Fi and an extensive array of connectivity options.

VivoMini VM65N
The ASUS VivoMini VM65N is a mini PC powered by the latest 6th‑generation Intel® Core™ processors for compelling home and office computing performance in a compact size. The VivoMini VM65N features Vivo DualBay, a unique dual-storage design that can accommodate two 2.5-inch hard drives or a single 3.5-inch HDD for added storage flexibility. Discrete NVIDIA graphics deliver smooth, ultra-realistic 4K visuals, and DDR4 memory provides better performance with lower power consumption. USB 3.1 ports provide super-fast data transfers, while Intel 802.11ac Wi-Fi delivers ultra-fast networking speeds ideal for remote PC access and streaming multimedia content.

VivoStick PC TS10
The ASUS VivoStick PC TS10 is a slim and stylish stick PC that turns any HDMI-enabled TV or monitor into a fully functional computer. Powered by the latest-generation Intel Cherry Trail Atom™ processors and featuring Windows 10, the VivoStick PC TS10 is an essential PC that provides productive and enjoyable computing experiences. Networking and connectivity options, including fast 802.11ac Wi-Fi, Bluetooth 4.0, two USB ports, an audio output jack, provide added flexibility, while built-in Miracast support lets users turn their TV into a home entertainment PC that can share and play content from anywhere.

ASUS Router app
ASUS Router is a robust and intuitive mobile app available on the App Store and Google Play that lets users set up their ASUS router, manage network traffic, update firmware, and perform network diagnostics right from their smartphone or tablet. Game Boost lets users instantly configure their router with a single click to ensure the best network performance for gaming. When network issues arise, Network Diagnostic pinpoints the exact problem and provides easy-to-follow steps to help resolve it. Additional features such as a bandwidth limiter, network security settings, and dedicated guest Wi-Fi sharing give users extensive control of their ASUS router without needing to boot up their PC.

CM-32 AC2600 cable modem router
The ASUS CM-32 AC2600 is an all-in-one cable modem and 802.11ac wireless router that provides users an easy-to-install upgrade to their existing cable-based home network in addition to savings on monthly cable modem rental fees from their internet service provider (ISP). The CM-32 AC2600 features a four-transmit four-receive (4×4) antenna configuration to provide concurrent speeds of up to 2534Mbps.

USB-AC68 Wi-Fi adapter
The ASUS USB-AC68 is a pocket-sized USB Wi-Fi adapter that provides notebooks or desktops an instant upgrade to ultra-fast, dual-band 802.11ac at speeds up to 1900Mbps. It features a three-transmit, four-receive (3×4) MIMO design with two external movable antennas and ASUS AiRadar beamforming technology for outstanding signal coverage. The ASUS USB-AC68 includes a desktop cradle with an extension cable that lets you position the adapter to achieve the very best performance, even in areas with troublesome Wi-Fi reception. Additionally, the adapter's USB 3.0 interface delivers up to 10X-faster data transfer speeds, eliminating potential performance bottlenecks.

XG-D2008 10-Gigabit switch
The ASUS XG-D2008 is the first 10-Gigabit (10G) network switch with enterprise-level performance and consumer-friendly pricing designed for gaming, home office, and small business use. The XG-D2008 features easy plug-and-play installation, 10G RJ-45 ports for full compatibility with new and existing network devices, and enhanced performance for bandwidth-hungry users.

RP-AC68U Wi-Fi repeater
The ASUS RP-AC68U is an 802.11ac dual-band Wi-Fi repeater that delivers networking speeds up to 1900Mbps. The RP-AC68U is incredibly easy to use thanks to features like the one-press WPS button for quick and secure setup, and the smart LED signal indicator that helps users find the best location for optimum Wi-Fi performance. A built-in USB 3.0 port provides fast data transfers to connected storage devices that are accessible over the internet with ASUS AiCloud.