D-Link CES 2016 announcements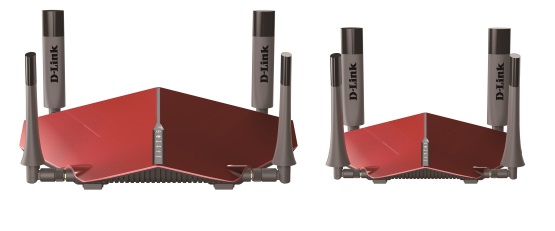 D-Link made a few announcements earlier today around new products and features (IFTTT!), but I think the most interesting is a home 802.11AC kit with adaptive roaming. Of all the questions I get asked about Wi-Fi, how to seemlessly extend a wireless network is the most common. Adaptive roaming has been around for ages in the enterprise space, but AFAIK this is the first really consumer oriented product to offer the automated AP hand-off feature. I'm really looking forwared to testing it – if it lives up to the billing, D-Link will have a fantastic feature advantage. Here's to hoping that it's not just a kit feature, but also something that can be added to their existing routers as well.
· D-Link Launches Unified Home Wi-Fi Network Kit with Adaptive Roaming Technology: As more wireless devices are being used throughout the home with high bandwidth applications, such as streaming HD video and online gaming on multiple devices simultaneously, users need a home network that can keep up with their demands. The Unified Home Wi-Fi Network Kit with Adaptive Roaming Technology (DKT-891) is a router-extender kit designed to address the need for full home wireless coverage. Using intelligent adaptive roaming technology, connected devices will automatically hop between the router and extender based on which connection will provide the best performance, allowing users to move throughout the home without having to configure or worry whether they're getting the best connection and performance from their network.

· D-Link Launches New Line of EXO Routers Featuring Premium Design and Powerful Performance: Comprised of two routers, the AC1900 Wi-Fi Router (DIR-879) and the AC1750 Wi-Fi Router (DIR-869), the EXO series blends exceptional design with powerful 11AC home networking performance to provide impressive speed and coverage for an affordable price. With high-power amplifiers designed to maximize range, and gigabit ports for wired connectivity, the EXO routers provide whole-home coverage for your Smart Home's many connected devices. The AC1900 router also includes SmartConnect technology to automatically assign clients to the wireless band providing the best bandwidth.

· D-Link Expands the mydlink® Home Ecosystem With Wi-Fi Based Alarm Detector: The mydlink® Smart Alarm Detector (DCH-S165) is a Wi-Fi based detector that monitors and identifies the sounds of standard UL-certified smoke or CO alarms. The Smart Alarm Detector easily connects to an existing Wi-Fi network and by placing it within 50 feet of smoke or CO alarms, it accurately detects the temporal sounds and sends a mobile push notification if either of the alarms sound. All of the D-Link Connected Home solutions, including the Smart Alarm Detector, work with the free mydlink Home app for iOS® and Android® smartphones and tablets, allowing users to control devices all from one screen.

· D-Link Adds IFTTT Support to mydlink® Connected Home Ecosystem: Committed to the advancement of today's Connected Home, D-Link incorporates IFTTT (If This Then That) on the mydlink® Home appacross a suite of Connected Home devices including Wi-Fi Smart Plugs, Water and Motion Sensors, Wi-Fi Siren and the new Smart Alarm Detector. IFTTT support enables users to create conditional commands and link multiple IFTTT products and apps together for a completely customizable home automation experience.