ASUS Announces DSL-AC88U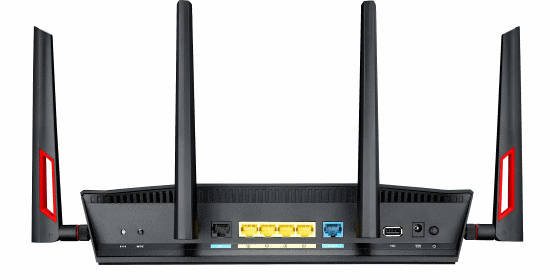 If you have DSL at home the new ASUS DSL-AC88U provides an integrated approach to providing internet connectivity from a single device. What makes this guy particularly interesting is that it also has a WAN port, so if you decide to drop the DSL when cable comes to down you won't have to eBay it. Also, while it's not mentioned in the PR, I'd be surprised if it didn't support dual WAN connections from the DSL & WAN ports. If it does, and you need that level of backup this could be just the thing.
Even more interesting is that this looks to be quite a bargin even if you don't need a DSL modem. Its SRP of £220 is less than the £250 DSL-modem-less RT-AC88U that it appears to clone.

ASUS Announces DSL-AC88U

Powerful and flexible AC3100-class Wi-Fi modem router offers future-proof support for latest G.fast DSL and compatibility with all existing ADSL/VDSL standards

KEY POINTS

Optimized for bandwidth-intensive tasks with NitroQAM (1024-QAM) technology for dual-band Wi-Fi speeds up to a combined 3167Mbps.
Maximum broadband compatibility, with support for the latest G.fast standard, existing ADSL, ADSL 2/2+ and VDSL2 standards, and Ethernet WAN
Enables easy, family-friendly monitoring and filtering of internet activity

Taipei, Taiwan (9th February, 2017) — ASUS today announced DSL-AC88U, an ultra-fast AC3100 dual-band Wi-Fi modem router that supports the latest high-speed G.fast DSL standard as well as all existing ADSL, ADSL2/2+ and VDSL2 standards.

DSL-AC88U is our fastest ever modem router, featuring cutting-edge Broadcom® NitroQAM™ technology that delivers 1.25X-faster Wi-Fi speeds than standard four-stream (4×4) routers. This enables data rates of up to 2167Mbps on the 5GHz band and 1000Mbps on the 2.4GHz band — or a combined concurrent bandwidth of up to 3167Mbps.

DSL-AC88U has family-friendly parental controls that allow users to monitor and filter internet activity, which can help to protect the online safety of younger family members.

In addition to its wide compatibility with G.fast and existing DSL broadband services, DSL-AC88U can also connect to the internet via an Ethernet connection, such as those provided by fiber- or cable-modem-based ISPs. These outstanding connectivity options make DSL-AC88U a supremely flexible and future-proof choice for any home user.

NitroQAM: Our fastest ever modem router

ASUS DSL-AC88U uses a Broadcom NitroQAM (1024-QAM) technology to boost maximum Wi-Fi speeds on both the 5GHz and 2.4GHz frequency bands by up to 25% compared to other four-stream (4×4) MIMO designs[1]. With NitroQAM, 5GHz speeds can be improved from 1734Mbps to 2167Mbps, and at 2.4GHz speeds are boosted from 800Mbps to 1000Mbps. This gives DSL-AC88U a combined total bandwidth of up to 3167Mbps for lag-free, low-latency online gaming, smooth streaming of 4K UHD movies and blindingly-fast file-sharing.

Ultra-fast and ultra-flexible: G.fast support and maximum DSL compatibility

ASUS DSL-AC88U supports the very latest G.fast DSL protocol, a cutting-edge technology that enables broadband speeds up to 18 times (18X) faster than VDSL2, or 4.5X faster than Vplus (35b) technology.

For full compatibility with existing DSL connections, DSL-AC88U also supports ADSL, ADSL2/2+ and VDSL2 services. It also supports Ethernet-based internet (WAN) connections, so it can be easily connected to an existing fiber- or cable-modem service. This superb flexibility gives users the peace of mind that DSL-AC88U will give them future-proof support for any ISP upgrades.

Family friendly: Easy-to-use parental controls

To help protect younger family members from inappropriate websites and limit their internet access, ASUS DSL-AC88U features powerful yet easy-to-use parental controls, including filters that can block access to specified websites or apps. A scheduling feature allows parents to restrict the amount of time a device can access the internet. With DSL-AC88U, parents can easily create a healthier and safer network environment for their family members.

AVAILABILITY & PRICING

ASUS DSL-AC88U will be available from the first week of March in the UK from leading retailers with an SRP of £219.99. Please contact your local ASUS representative for further information.




SPECIFICATIONS[2]

ASUS DSL-AC88U

Wi-Fi

Network standards: IEEE 802.11a/b/g/n/ac, IPv4, IPv6.

Concurrent dual-band 2.4GHz and 5GHz

802.11ac (5GHz): up to 1734Mbit/s

1024QAM (5GHz): up to 2167Mbit/s

802.11n : up to 800Mbit/s

1024QAM (2.4GHz): up to 1000Mbit/s

Wi-Fi features

MIMO technology:

2.4GHz 4 x 4

5GHz 4 x 4

DSL compatibility

G.fast, ADSL, ADSL2/2+, VDSL2, Vplus (35b)

Memory

128MB Flash / 512MB RAM

Ports

1 x RJ11 DSL

1 x 10/100/1000Mbit/s WAN

4 x 10/100/1000Mbit/s Ethernet LAN

1 x USB 3.0

1 x USB 2.0

Antennas

4 x external detachable antennas (4×4 MIMO)

Management

ASUSWRT web-based admin console

Utilities: Router setup wizard; Firmware restoration; Device discovery; Printer setup utility

Firewall & Access Control

Access control: Parental controls, Network service filter, URL filter, Port filter

Features

Link Aggregation, Smart Connect, Traffic Analyzer, Adaptive QoS, Parental Control, Guest Network, VPN server, VPN client, Roaming Assist

Additional features

ASUS AiCloud personal cloud service

3G/4G data sharing

Weight

950g

###

About ASUS

ASUS is a worldwide top-three consumer notebook vendor and maker of the world's best-selling, most award-winning motherboards. A leading enterprise in the new digital era, ASUS designs and manufactures products that perfectly meet the needs of today's digital home and office, with a broad portfolio that includes motherboards, graphics cards, optical drives, displays, desktop and all-in-one PCs, notebooks, netbooks, servers, multimedia devices, wireless solutions, networking devices, tablets, smartphones and wearables. Driven by innovation and committed to quality, ASUS won 4,368 awards in 2015 and is widely credited with revolutionizing the PC industry with its Eee PC™. ASUS has more than 17,000 employees around the globe with a world-class R&D team of over 5,500 engineers. Company revenue for 2015 was approximately US$14 billion.

---

[1] Requires compatible client devices

[2] Specifications, content and product availability are all subject to change without notice and may differ from country to country. Actual performance may vary depending on applications, usage, environment and other factors. Full specifications are available at http://www.asus.com