Actiontec MyWirelessTV Multi-Room HD Video Kit Reviewed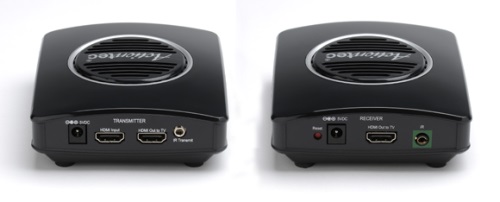 It seems like the world of home theater has become an endless stream of new cables and connectors over the last couple of decades. It is impossible to predict exactly what the future will bring, and let's face it, most of us do not have the wherewithal to continually update the wiring in our house to accommodate every new video connector that comes along. It is for this reason that we have looked in the past at systems like the Warpia StreamHD SWP120A, in hopes of finding a solution for sending our video to any screen wirelessly. The Actiontec MyWireless Multi-Room HD Video Kit is another example of such a system, but with a focus on expandibility. The base setup transmits video from a source to a screen, but the goal is to allow multiple transmitters and receivers to be tied together for sharing between multiple rooms and multiple sources. It certainly sounds like a compelling concept.
Here is where Actiontec and their MyWirelessTV product comes into play. Featuring an 802.11 wireless standard transmitter and receiver, capable of streaming up to 1080p60 video up to 150 feet, the MyWirelessTV allows you to broadcast your HD content to nearly any room in the house. Future capabilities will offer multi-cast transmission, from one transmitter to up to four receivers, and multi-source, linking multiple transmitters to one receiver.