Intel WiDi to be Built into TV and STB Chipsets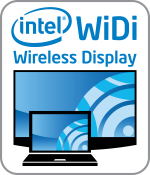 Intel's WiDi wireless display technology has been on a bit of a slow burn, in large part because making the wireless connection requires that WiDi be built into both the receiving device and the transmitting device. Intel has some control over the transmitting side as they would love to see everyone buying new laptops to stream content to their TVs, but how to get it into the TV? Intel and LG recently announced that LG would be building WiDi into their new TVs, and now Intel has lined up a number of SoC manufacturers who will be building WiDi into their chipsets aimed at smart TVs, settop boxes, and media streamers. The new partners include heavy hitters such as Realtek and Sigma Designs, and less well-known manufacturers like Cavium and Wondermedia. Anyone want to bet that we will probably hear more about some of these WiDi-equipped products over the next couple of days?
Future iterations of smart TV and STB, then, will allow for direct streaming of a laptop or PC's display output, using a point-to-point wireless connection. That saves the $50-$100 for a WiDi adapter, and also potentially bites into other smart TV boxes like Apple TV and Google TV: why buy a standalone box, so the argument goes, when your laptop can turn into a multimedia hub just as easily.