Netgear Announces New Lineup and Netgear Smart Network App Store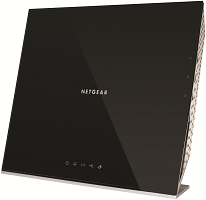 Just when you thought we had run out of devices in need of an app store, along comes Netgear with the announcement of their new Smart Network App Store. The idea behind the Smart Network App Store is to create an app store for your network and it's connected devices. The demonstration apps they showed off, such as a wireless access control app and bandwidth monitoring app, sound an awful like the information that one could retrieve from a router's web interface, but obviously accessing that interface is not for everyone. It seems likely that the goal will be to not only encourage folks to buy more Netgear equipment, but to simplify network management for mainstream consumers.
Netgear was also showing off their new hardware. The showcase device was the new Media Storage Router. The Media Storage Router builds on the N900 Dual Band Router by adding a user-unchangeable 2TB hard drive and Readyshare-based automatic backup for PCs and Macs. Netgear also has a range of other networking devices on tap for the new year to extend wireless and Powerline networks everywhere, all of which are expected to support the Netgear Smart Network App Store.
"Just as your feature phone evolved into a smartphone, with thousands of apps that allow you to personalise your device and add value to your hardware, Netgear is transforming the network into a smart network," said David Henry, Netgear's vice president of product development.

Henry demoed an app for monitoring how much data has been downloaded each month, one allowing you to share media with friends and family, and another offering control over who has access to your wireless network.