Connecting DLNA Devices to Get Easier with Wi-Fi Direct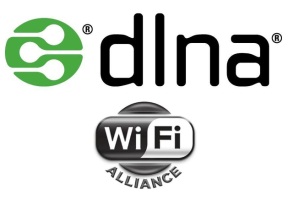 The Wi-Fi Alliance recently announced that they have developed new interoperability guidelines to help Wi-Fi Direct and DLNA work together. Wi-Fi Direct is a relatively new Wi-Fi standard that allows Wi-Fi devices to connect directly to each other without the need for an access point. The interoperability guidelines would allow a Wi-Fi Direct device to connect and stream to a DLNA enabled device. The obvious example would be a Wi-Fi Direct capable smartphone like the Samsung Nexus connecting to a DLNA enabled media streamer to play back the media stored on the smartphone. DLNA has not taken off as well as hoped, but making it easier to use by making it easier to connect the devices can only help. More importantly, the dedicated connection offered by Wi-Fi Direct might help improve media playback versus connecting to a more distant AP and make it easier to create temporary connections for media streaming. Even though I think the Wi-Fi Alliance has hit on a good idea, I can already imagine the cheesy commercials in which different family members take turns playing their family videos from their phones at a family reunion. If you have a better cheesy commercial idea, be sure to share it with us.
The neat thing with Wi-Fi direct is that two Wi-Fi devices can communicate directly with each other without the need of an access point or a router. With some DLNA support thrown into the mix it should become simpler to stream media directly from your smartphone or notebook onto any DLNA enabled set top box, media player Hi-Fi or TV with built-in Wi-Fi.