NETGEAR Nighthawk X8 – AC5300 Tri-Band Quad-Stream Wi-Fi Router (R8500)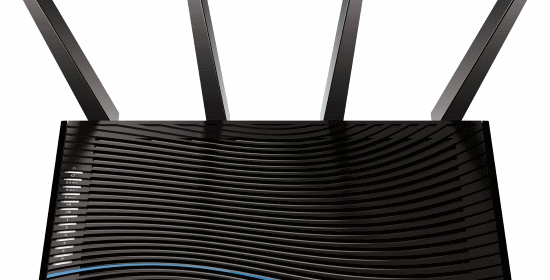 NETGEAR touts the Nighthawk X8 AC5300 (R8500) Smart Wi-Fi router as "the next wave in Wi-Fi". Generally, I am inclined to dismiss this sort of hyperbole, but the $350/£350 802.11AC includes features that are a reasonable step up from other models including: quad-streams, two 802.11AC radios, Wave 2 enhancements , and six Gigabit Ethernet ports, with two 802.3ad (link aggregation) enabled. Alongside this, it also includes a feature that should have a tangible benefit for all clients – active antennas. By moving the amplifiers from the mainboard to the tops of the antennas, there should be a clear benefit in signal strength and clarity. I am not sure that is enough to count as a "next wave", but it has got me very interested in testing out the R8500.
Device
While $350/£350 is a lot to pay for a Wi-Fi router, it is nice to see improved packaging tracking alongside the increase in price. NETGEAR has done an excellent job of wrapping a premium device with a premium unboxing experience.
The first word that popped to mind after unwrapping the 12.44" x 10.39" x 2.4" Nighthawk X8 AC5300 (R8500) was, "massive". Clearly, there is some reason for it. As they had to make space for seven Ethernet ports and all the internal hardware that supports the three radios, but I hope that the next round of devices have more effort put into making them smaller. It is worth noting that the R8500 requires a 19V power brick, and the one I was originally provided is 120Hz/60V. So, if you plan to travel with the router, some planning is required.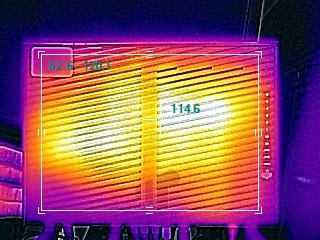 With a dual-core 1.4GHz SoC and the radios for 1x 2.4GHz (1000Mpbs claimed) + 2x 5GHz (2166Mbps claimed), the Nighthawk X8 AC5300 (R8500) has significant power demands; 21.3W measured at the wall. As such, it also generates some heat; with the hottest point on the top hitting ~120F. This may partially explain the size of the router as it appears to have a sizable heatsink within.
Setup
First-run was smooth and straightforward. It was simple and informative enough that non-technical users should be able to step through the process and get everything configured correctly with minimal effort. I think it is fantastic SSID specification is part of the process as well, but unfortunately it falls short on two points: not resetting the default admin password ("password") and failing the firmware update check.
Like the recently reviewed NETGEAR R7800, the R8500 has the same classic and serviceable UI, as well as the same basic feature set, like Parental Controls, VPN, port forwarding, dynamic DNS, intelligent bandwidth based QoS (Quality of Service), static routes, etc. However, it lacks more advanced network management features and depth in many of the features that are present. Taking the same examples as before, parental controls and guest wireless, there is a lack of flexibility built into the implementation. The parent controls rely on OpenDNS's safe-listing DNS schemes, keywords in URLs, and an all-or-nothing time based approach to external network access. While these features work, and it is nice that they are present, they do not provide the granularity I would like to see from this feature. Guest wireless access also has the same limitations when an external DHCP server is used on the network. For guest access to work, these wireless clients must be given access to the LAN. If the router was to provide a truly segmented network via a separate subnet and DHCP/DNS infrastructure, this would not be an issue.
That said, these are mostly rough edges that only power users will experience, but there was a blocking issue with one of the key features of the R8500; 802.3ad link aggregation. Unfortunately, it lacked both stability and performance when tested with the NETGEAR ReadyNAS 212, with frequent drop-outs, loss of 802.3ad handshake (signaled in the UI), and lower two client read/write bandwidth than with a single PC.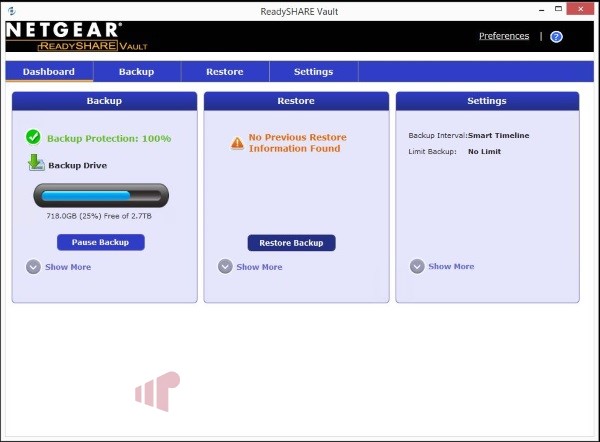 Flipping the RN212 into one of the other link aggregation mechanisms worked as expected, with performance numbers consistent with previous testing so it is not a broader compatibility concern. Although, disappointingly enough the router does not see the attached NAS as a suitable location for ReadySHARE Vault PC file backups. So if you want to take advantage of this fantastic feature, you will need to attach USB storage as well.
Use
Performance was tested using a real-world testing methodology, where a large file is copied from one side of the wireless gap to the other. Testing utilizes SSD equipped PCs via their Wi-Fi adapter or Gigabit Ethernet (for media bridge testing) with average bandwidth for the period represented in the charts below. It should be noted that the distance markers are not strictly linear. They represent locations in a two-story brick/plaster home with solid plaster/block (i.e. not stud + dry wall) internal walls; with 1-30' on the ground floor and 35-50' on the floor above.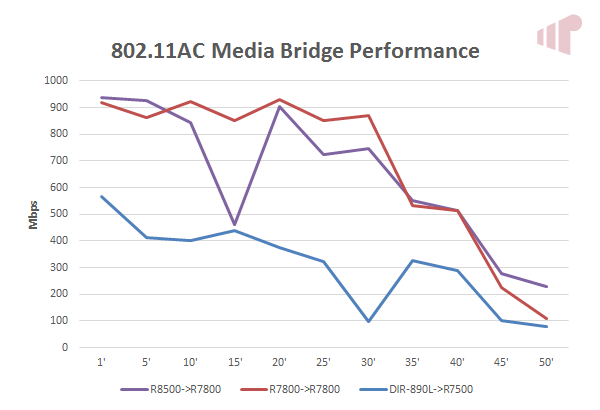 For those where wired Ethernet is not an option, media bridge performance is critical. Pairing the R8500 with an R7800 produced results that I have difficulty interpreting. Generally, bandwidth was quite close to the R7800-R7800 paring (expected result) except at distance, where the active antennas play a more noticeable role. But, there was also a prominent drop at 15' which was odd enough that I tested it three times. As strange as that is, performance was still higher than the DIR-890L, just well below what I expected to see in that location.
Turning towards the more common use case, PC clients, 5GHz and 2.4GHz both 3×3 and 2×2 devices were tested as well.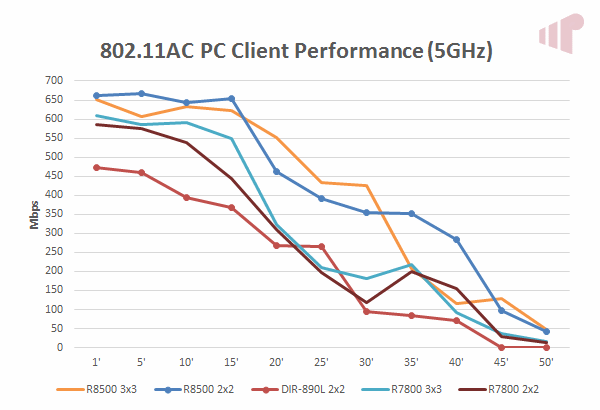 In the 5GHz 802.11AC space, we see the [Broadcom] 3×3 and [Intel] 2×2 PC clients enjoying a clear advantage over both of the reference 802.11AC routers until 35-40' where the 3×3 drops down, then recovers at 45-50', with the 2×2 consistently the highest performer. Here again we see an advantage at the extremes of the test.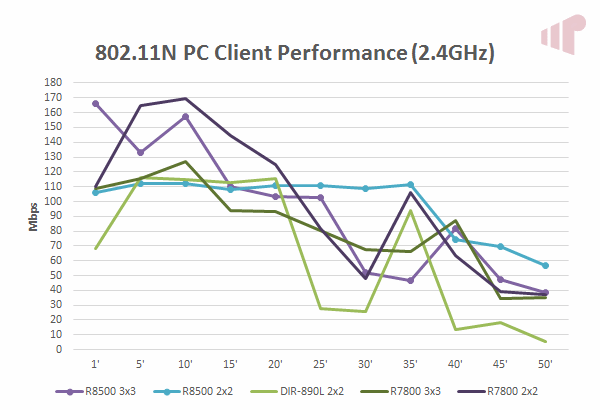 2.4GHz is decidedly more muddled, with very little advantage indicated except at 45-50' by the Intel 2×2 client.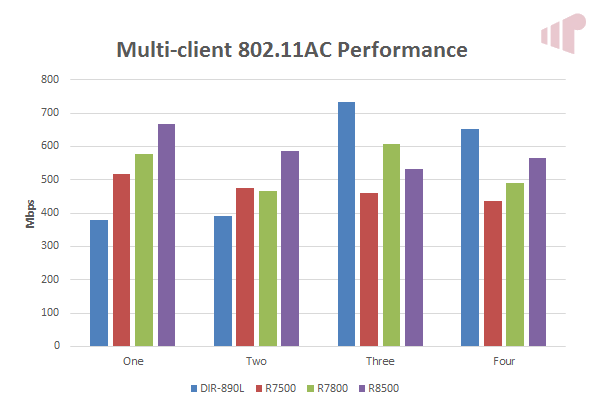 With two 2133Mbps (theoretical) 802.11AC radios, I would have expected the Nighthawk X8 AC5300 to wipe the floor with the reference routers, an AC3200 (2x 1300Mbps) and AC2600 (1x 1733Mbps), but that was not the case. Naturally, there is an observable performance delta with one and two clients, but scaling to three/four, the AC3200 device actually provides more aggregate bandwidth. This result was quite perplexing, so more investigation was required. As it turns out, the low band 5GHz radio (36+40+44+48) is only delivering bandwidth in the 100-150Mbps range, even with a single client connected at the range selected (5'). This issue has been escalated to NETGEAR. Hopefully, a fix will be available soon.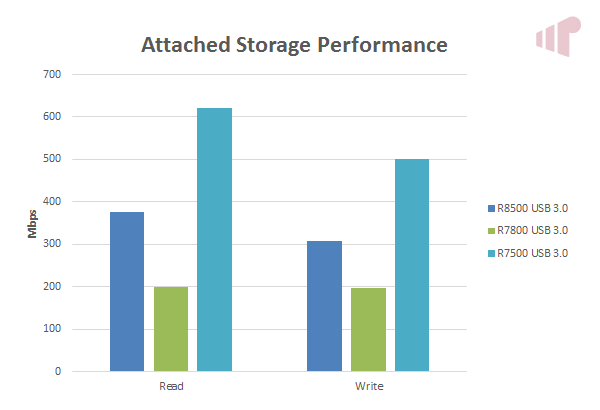 The Nighthawk X8 AC5300 lacks eSATA connectivity, so only USB3.0 storage bandwidth was tested. Results are better than the R7800, but both lag the R7500; all NETGEAR devices. That said, with > 300Mbps available for both read/write operations, performance is more than acceptable for content streaming provided the number of clients is less than four and the lack of redundancy is not an issue.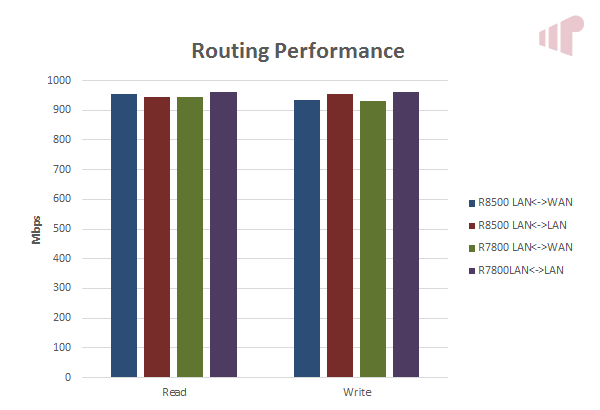 Lastly, a look at routing/switching performance where the R8500 is roughly equivalent with the reference routers, and just below the theoretical maximum of Gigabit Ethernet.
Conclusion
Aside from the issues with 802.3ad link aggregation (a signature feature), the Nighthawk X8 AC5300 R8500 exhibited rock solid stability during the extended testing period. While the $350/£350 price is on the high side, I am completely sold on the benefit of placing an active amplifier into the antennas. Not only did the value demonstrate itself in structured testing, but it was also something I noticed anecdotally using devices (most notably my mobile phone) around the house and yard (garden). Combining this with the top-spec features like three quad-stream radios, six Ethernet ports, future proofing Wave2 enhancements (e.g. MU-MIMO), and ReadySHARE Vault, the R8500 is a great solution for those with a large home looking for a cutting edge Wi-Fi system – but probably not quite enough to qualify as the "next wave" in Wi-Fi routers.
Pro:
Outstanding range
5GHz performance
Six LAN ports
Stability
Con:
Low band 802.11AC radio performance is lacking
802.3ad implementation lacks stability and performance
ReadyNAS is not ReadySHARE compatible
Thanks to NETGEAR for providing the review sample.