Sony SMP-N200 Review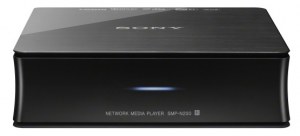 Sony announced their new 3D-capable media streamer, the SMP-N200, a while back, promising that it would arrive in October. It is now October and CNET has not only whipped up a review, but a video review to boot, so that you can see the petite streamer in action. At $99 dollars, the SMP-N200 is facing stiff competition from fellow second-generation streamers, the Roku 2 and the Apple TV 2, not to mention the recently announced WD Live TV.
Our biggest hope for the SMP-N200 was a redesigned user interface, but it's largely unchanged from last year's model. While most companies use a standard interface for services like Netflix and Amazon Instant, Sony adapts these services into its own menu design. In the abstract, a common look-and-feel between services may seem like a smart strategy, but it ends up doing more harm than good.
During the time I spent with the SMP-N100, I generally liked the UI, so I'm not sure if I would be too disappointed to see it return in the new model. I am however happy to hear that the clunker of a remote has gotten an overhaul. It is looking to be a great holiday season for anyone in the market for a new media streamer.