Sneak a Peek at Sony's Vision of the 3D Future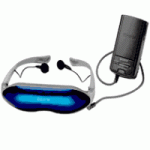 There was a time when I desperately wanted a Sony Glasstron. This was a set of LCD eyeglasses that would simulate the effect of watching a 50″ TV from several feet away. They were low-res, expensive, bulky, ugly, and deliciously geeky. Of course, they faded away in the mists of time, because frankly, no one else wanted them. Fortunately, Sony never knows when to call it quits.
Ars Technica got some hands-on time with two new products that take an interesting approach to incorporating 3D technology in new ways, including a modern take on the Glasstron.
Sony wants you to play games and watch movies in 3D, but regular 3D TVs are just so yesterday. In an attempt to help bolster the burgeoning technology, Sony will soon be offering a number of alternatives. We had the chance to check out two upcoming devices: the PlayStation-branded 24″ display originally unveiled at E3, and the Personal 3D Viewer, a visor-like device that simulates a theater-sized 3D viewing experience.
The Personal 3D Viewer uses OLED screens to simulate sitting 20 meters away from a 750-inch 3D screen complete with virtual 5.1 surround sound. I cannot see this being any more successful than the Sony Glasstron, but I'm already feeling that same old geek lust welling up. The PlayStation TV on the other hand could have some serious legs. Toshiba has shown off similar technology for 2D screens, but coming from Sony, with the full weight of PlayStation development placed behind it, I could see this tech work its way into larger TVs for the living room as long as it does not impact the effectiveness of viewing regular 3D video.