Sony @ CES 2013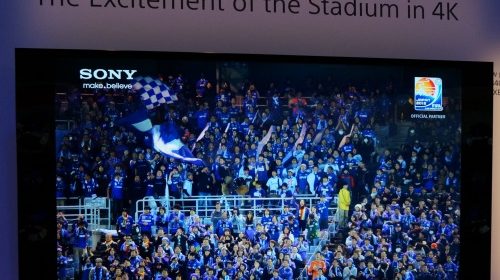 Sony had many products on display at their booth, but each time I stopped by to take a look I got lost in the beautiful 4K displays. Which was OK in my book for two reasons: 4K is gorgeous, anyone who doesn't get it is blind or wants to have a small TV and second Sony's booth was all about selling 4K – and I was buying. Not literally of course, because they are crazy money :).
Check out the gallery and a video of their 4K OLED after the click.
4K/UHD
4K doesn't make sense on a 50″ display unless you're using it as a computer monitor and are located accordingly close. It probably also doesn't make sense on a 55, 60 or 65″ TV either unless you like to cuddle up with your content (no judgements, just saying ;)). Moving beyond those sizes though the value is obvious and frankly most "4K is stupid" pundits say that too after getting past the link-baity headlines. Now I can't speak for everyone, but I want the biggest TV I can hang on the wall, put in the wall, or display on the wall and there isn't a wall in my house that is less than 70″ so 4K is an obvious, natural next step in the move towards bigger, better displays so let's get on with it.
I could have spent hours looking at this 4K OLED, but unfortunately there's only so much time in the day. I did spend a lot time looking for problems though, but the only one I could find was that it was just 56″.