XGIMI Horizon / XGIMI Horizon Pro 4K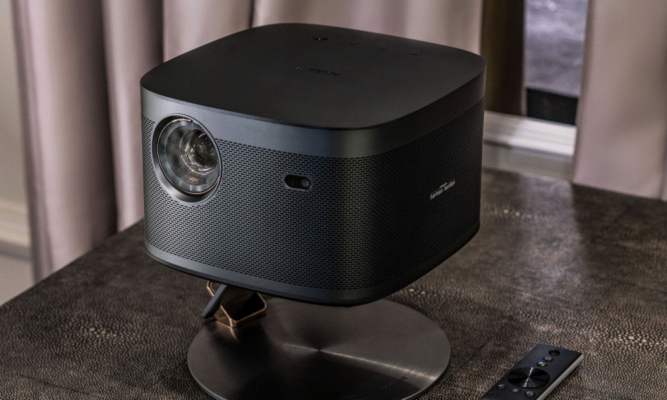 I'd never heard of XGIMI before they sent me the details on their new XGIMI Horizon 1080p and XGIMI Horizon Pro 4K projectors, and TBH I was inclined to ignore it until I actually looked at the specifications for them. While it is a bit disappointing that they don't support Dolby Vision, HDR 10 is on board along with Android TV with Play store access which means that they are "Smart" which makes it much easier to deploy one in your living room, deck, or garage. Oh, and the price for either unit is very competitive even compared to "Dumb" projectors. Have to admit, that I'm pretty tempted by the $1700 Pro model. If you are too, XGIMI has a launch page up where if you signup and take a quiz, they offer a $100 coupon.
Global leading home theatre brand, XGIMI, unveils 2021 flagship projectors, HORIZON and HORIZON PRO, for pre-sale

Chengdu, Sichuan, April 7. Following the success of its flexible XGIMI MoGo Pro projector last year, home projector industry trendsetter, XGIMI has kept its eye on home usability, continuing to create the next-generation of home projectors, with today's unveiling of its 2021 flagship projectors, the XGIMI HORIZON and HORIZON PRO ("XGIMI HORIZON series").

Created to fit into family spaces, rather than conference rooms, the XGIMI HORIZON series is the smarter all-in-one entertainment choice for those wanting to enjoy more than just movies from the comfort of home. Thanks to offering users crisp images and powerful sound quality, the XGIMI HORIZON series enables consumers to build their own home theatres in any room they choose. Hassle-free functionality, for quick, plug and play set up, makes the XGIMI HORIZON series truly the premium home entertainment projector must-have for this year, and beyond.

Powerful cinematic clarity with immersive sound

Each evening can be a cinema-quality movie night at home. Bring immersive cinematic sound and crisp clear image quality to your home theatre and let a film choice entertain and distract the family without the need for a cinema screen or to leave your living room.

Movie watchers and gamers are catered for, with a 300 inch image projection. The XGIMI HORIZON Pro has True 4K technology, offering superior resolution for stunning clarity image quality and crisply defined details. An unparalleled large auditorium rate of 2200ANSI lumens offers even sharper, more resplendent screen colour for at-home users to have the unforgettable cinema experience they crave, but also expand their use of the XGIMI HORIZON Pro to enjoy more than just movies, at all times of the day and night.

XGIMI's patented X-VUE image technology enhances the image quality, by adopting 120Hz motion compensation technology that works with XGIMI's MEMC (Motion Estimation, Motion Compensation) to solve any potential image flutter or tailing problems that might occur when projecting high dynamic images. Through a specific algorithm, this significantly increases the clarity and fidelity of dynamic pictures on the XGIMI HORIZON series.

Through its partnership with Harman Kardon, XGIMI's HORIZON series projectors feature built-in 16W combined full-range bass performance Bluetooth transducer speakers, delivering intense, immersive, reverberating cinematic sound that culminates in a superior audio-visual experience. Aside from pushing the boundaries beyond a single plane of surround sound towards object-based surround sound, the speakers can be used for vibrant sound clarity when listening to your favourite tunes.

Adaptable, user-friendly technology

Whether users live in a studio apartment with limited space or a four storey townhouse, they can host the perfect family film night, entertain friends after dinner or keep the kids occupied for a few hours quite easily thanks to the flexibility of the XGIMI HORIZON series.

XGIMI's industry-leading Automatic Keystone Correction and integrated AI-powered image-sensing algorithm intelligently identify and avoid obstacles in the projection area. Trained through thousands of scenes and hundreds of screen settings, the XGIMI HORIZON series can automatically identify the screen area and adjust the image accordingly. This enables it to fill the projection space even if it's turned on its side. Users can wave goodbye to tedious manual keystone correction, making it easy to move from room to room, and to fit in any space. The unobtrusive Auto Focus function quickly adjusts the image focus even when the projector is moved, keeping the projection image clear and sharp at all times.

Powered by Android TV and incorporating 5,000+ native Android apps, the interface's simple layout is highly intuitive. Syncable across devices from mobile and desktop to streaming services, even kids can navigate through different apps easily. The added benefit of TÜV's Eye Comfort Certification means the XGIMI HORIZON series offers eye protection capability including eliminating annoying reflections and ensuring displays are flicker free. By also reducing blue light composition, the HORIZON series projectors incorporate eye protection features that safeguard image quality from different perspectives so users can enjoy watching for longer, without suffering visual discomfort including eye fatigue.

XGIMI's LED lifespan stays perfectly crisp, bright and clear for 30,000 hours, compared to the usual 4,000. This means the XGIMI HORIZON series can last 10 years+ rather than just 1.5 years like other projectors, saving thousands in bulb replacement during its lifetime. XGIMI's HORIZON series has incredible power under the hood combined with user-friendly features and functionality, so can be enjoyed by every member of the household.

Finally, a projector that matches your furniture.

For those who are more design orientated than tech savvy, the outlook and fabric may be more of a consideration than decibels and lumens, but again XGIMI's HORIZON series is the answer.

Aesthetically pleasing masterpieces, the XGIMI HORIZON series blends seamlessly into any room in any home. Throwing the boring square box design out the window, XGIMI's HORIZON series projectors have rounded edges, making them easier on the eye. Mesh patterning running all the way round, rather than flat metal or plastic, means both models steer away from appearing untidy even if they have dust on them.

Study aluminum construction offers a valuable combination of lighter weight but with the strength and corrosion-resistant flexibility to last longer. The 1080p HORIZON comes in a cool space-age grey, while the 4K HORIZON Pro is a simple stunning matte black.

Designed with flexible home use in mind, this smart all-in-one entertainment choice offers cinematic clarity and intense, immersive sound, combined with the hassle-free technology on offer in the unbox and plug in to use. XGIMI HORIZON series will enable consumers to exceed the audiovisual quality on offer at their local cinema, from their very own home theatres, making the XGIMI HORIZON series the premium home entertainment projector must-have.

The XGIMI HORIZON will retail for $1,099 / £1,099* and the XGIMI HORIZON PRO for $1,699 / £1,699*, via XGIMI and major retailers including Amazon. Ahead of the official launch in June, both models are available for pre-order in early May on XGIMI website.

* UK pricing may be altered, as calculated based on current conversion rate

ENDS

For more information contact Ari Morguelan, at Ari@communicatemore.biz

ABOUT XGIMI

Trusted by more than 1.5 million users globally, XGIMI designs and manufactures high-performance multi-functional smart projectors and laser TVs, and is determined to improve viewers' audio-visual experience. XGIMI has created a series of game-changing giant screen projection products with critical partners like Harman/Kardon, Google, Texas Instruments, and Baidu.

XGIMI reimagines the Home Projector space by bringing the best user experience through performance and intuitiveness. Developed to compliment every home style and interior decor, XGIMI promises absolutely set-up free eye-catching projectors that intelligently adapt screen size, location and brightness to the surrounding environment. Developed to compliment every home style and interior decor and throwing the boring square box design out the window, XGIMI projectors have slick style, making them easier on the eye.

The compact devices are incredibly powerful to create an outstanding immersive home theater experience. In recent years, XGIMI has won international awards such as CES Best Innovation Award, iF Design Awards, Red Dot Design Award and Good Design Award 31 times.