Panasonic @ CES 2013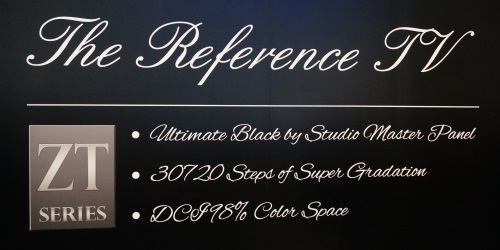 There was only one display in a pitch black room at CES. That it was lined up against a VT50, arguably 2012's best TV, and making it look [literally] washed out in comparison speaks volumes about the beautiful beast of a plasma Panasonic is bringing out later this year. If I had to pick one thing that most impressed, and I could get it, it would be the Panasonic ZT60. I spent hours on the floor at the Las Vegas Convention Center last week, and each time I stopped by to have another look at the ZT it always impressed with the deepest black, and most outstanding color representation I've seen in a production ready TV.
Click through to check out some shots of the ZT and the other things of interested a Panasonic's booth.
Plasmas
Most of the models run the range from 50-65″, but there were also be a 42″ S60 model should your tastes/needs run a bit smaller. There's no "GT" this year, with the oddly place model making space for a new top-of-the-line model "ZT". That's not to say that the VT60 is a slouch, offering everything (that matters) except the blackest blacks I've ever seen in a TV.
ZT60
In case it wasn't clear earlier, I really liked the ZT60 (on the left). It was gorgeous, and Panasonic's confidence in the display was obvious as they compared it to last year's best TV instead of a down-level model like they did in 2012. You will give up some [mostly] useless features stepping up from the VT60 though so it ultimately comes down to how much you value pure picture quality. Unfortunately it will not be cheap though, I was told ~$1K more than the VT60, and since they probably kept the "VT" (dropping the "GT" to make space) so it could be priced in-line with last year's VT50, it will take a bite out of your wallet should you choose to bring one home.
LCD
I have to admit that I didn't spend much time looking at Panasonic's 2013 LCDs. The 2012 models were OK, and the 2013's are better, but frankly if you're in the market for an LCD you should be shopping elsewhere. Panasonic is about plasma, and I appreciate them for it.
OLED
Oddly, Panasonic didn't announce their OLED at their press event on Monday. Opting to let it slip out on Tuesday instead. This is probably because of their partnership with Sony who also announced a 56″ 4K OLED (on Monday). Not much to say except that it was very impressive.