Drive Bender Released, Pooled Storage Comes to WHS 2011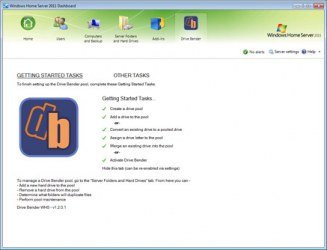 One of the signature technologies of the original Windows Home Server was Drive Extender. Drive Extender allowed multiple, disparate hard drives to appear as one single drive with built-in redundancy to boot. It was simple, elegant, and dropped from Windows Home Server 2011. As soon as word hit the streets that Drive Extender was not to be a part of WHS 2011, intrepid developers began working on a replacement.
Drive Bender was one of the first pooled storage add-ins announced and one of the most promising. As of version 1.2.1.0, Drive Bender is available to the public.
The developers have launched the add-in with an introductory offer for home users, pricing Drive Bender at $40 for a limited time. Business and Enterprise editions of the add-in are expected to launch in due course and a version for Windows 7, Windows XP, Windows Vista, Windows 7, Windows 2003, Windows 2008 and Windows 2008 R2 is also available.
Drive Extender was the source of a nasty data loss bug, a giant no-no for a server, and the source of persistent performance issues, so I remain somewhat nervous about these pooled storage add-ins. Although the loss of Drive Extender was a disappointment, I have to admit that I really haven't missed it that much. I am looking forward to testing out Drive Bender and its ilk on my test server, but for those of you running only a single production server, it might be worth waiting for some reviews before committing to one of these new add-ins.