Onkyo Debuts Mid-Price THX Select2 Plus AV Receiver With Streaming Internet Radio Capabilities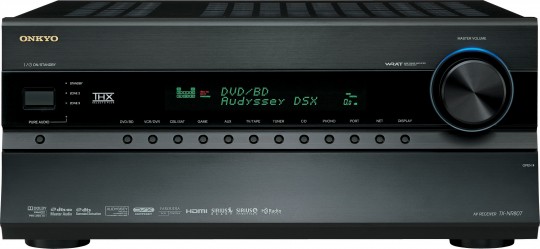 I've been a fan of Onkyo receivers for a while, they always seem to be very competitive price-to-feature. They continue releasing new versions to keep up with all the features, these are more in the high end though, with prices of $900 and $1100.



With the growing market for advanced internet radio services like
Pandora, Rhapsody, Sirius Internet Radio, and vTuner, consumers
increasingly seek to integrate their home entertainment systems with
the internet.

UPPER SADDLE RIVER, NJ (8/10/09) — Onkyo has introduced and begun
shipping its first network-capable home theater receiver configured for
Pandora, Rhapsody, and Sirius' streaming internet radio services. The
new Onkyo TX-NR807 also capable of playing computer music files from
networked PCs, is fully compatible with the Digital Living Network
Alliance's DLNA 1.5 consumer electronics interoperability
specification, and sells for less than half the price of the company's
previous network-capable model. With THX Select2 Plus certification and
state-of-the-art processing from Dolby, DTS, Audyssey and Faroudja, the
Onkyo TX-NR807 offers high definition audio and video performance. The
TX-NR807 and non-networking TX-SR707, also introduced today, are
Onkyo's first receivers to offer Audyssey DSX soundstage extension
processing in addition to Dolby Pro Logic IIz height-capabilities.

The Onkyo TX-NR807 connects directly to the internet or a home
network via a rear-panel Ethernet port. The receiver's on-screen user
interface allows users direct access to Pandora, Rhapsody, Sirius
Internet Radio, and vTuner streaming radio services, or to access MP3,
WMA, FLAC, Lossless, Ogg Vorbis, and AAC files from any computer or
storage device on the network. The receiver is Windows 7 compatible,
and its Ethernet port can also be used for firmware updates.

The TX-NR807 also includes Onkyo's new Bi-Directional Preprogrammed
RI Remote Control which will impress anyone who has ever been
frustrated by the trial-and-error manual data inputs and paper listings
usually needed to program associated TV's, disc players, cable boxes,
and other components. Onkyo's new system allows users to select from a
on-screen list of compatible products, and then automatically transmit
the codes from the receiver to the remote control. The remote also
offers up to four macro programs for simultaneous activation of
multiple components and feature sets.

As a premium home theater receiver, the TX-NR807 is also the perfect
match for high definition video displays with Blu-ray players and other
HD sources. It has six HDMI 1.3a inputs, 1080p video upscaling of all
sources using the powerful Faroudja DCDi Cinema processor chip. On the
audio side it has a full suite of surround processing, including
lossless Dolby TrueHD and DTS-HD Master Audio.

The Onkyo TX-NR807 is one of the first receivers to incorporate
Audyssey DSX technology, which allows the back surround channels to be
retasked for front-wide speakers to expand the width of the sounds
stage, or for front height speakers to provide vertical ambience
effects. The receiver also includes Audyssey MultiEQ room calibration
technology, plus that company's Dynamic Volume and Dynamic EQ
processing. Dolby ProLogic IIz processing is also included to provide
an alternate implementation of height channel technology.

The TX-NR807 has seven powerful 135-watts-per-channel Onkyo WRAT
(Wide Range Amplifier Technology) amplifier sections for high output
and low distortion, offering a dynamic power rating of 300 watts into 3
ohms. It has an extensive array of analog and digital inputs and
outputs, including an MM/MC phono input. Its multiroom audio
capabilities are similarly extensive with Powered Zone 2 and 3
capabilities, multiple DC triggers, bidirectional RS-232, and Onkyo's
exclusive Universal Port for connection of an optional iPod Dock and HD
Radio tuner.

The Onkyo TX-NR807 is now shipping to Onkyo dealers and will have a manufacturer's suggested retail price of $1,099.

Onkyo Debuts TX-SR707

Onkyo has also introduced the TX-SR707 THX-Select2 Plus home theater
receiver, which has the same advanced high definition audio and video
processing features as the TX-NR807, but uses a 7 x 100 Watts power
amplifier section, Powered Zone 2, conventional preprogrammed remote
control, and has no networking capabilities. The Onkyo TX-SR707 is
currently available with a manufacturer's suggested retail price of
$899.

Since 1946 Onkyo has been passionately committed to developing audio
products that deliver uncommon performance, quality and value. Bundling
proprietary technologies and innovations with other sound-enhancing
exclusives, Onkyo continues to created award winning product that are
lauded by many of the industry leading audio publications. The
company's philosophy is to deliver products that are superbly designed
and built to a consistently outstanding standard of excellence. Today,
Onkyo is at the forefront of the home theater and digital revolutions.
For more information about this and other fine Onkyo products, visit www.onkyousa.com or call 800-229-1687.