Yamaha Announces New High-End RX-V Series Receivers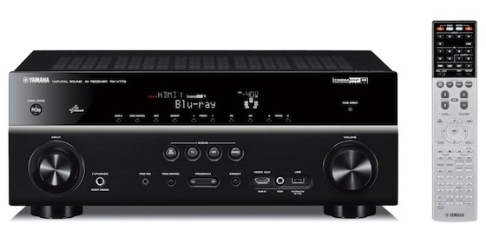 Yamaha has been slowly rolling out their 2012 RX-V series receivers over the last month or so. The latest additions to the line-up are the new RX-V673 and RX-V773WA, priced at $649.95 and $849.95 respectively. Both models will include 4K-Passthrough, Apple AirPlay support, a low power ECO Mode, and network support for DLNA and Internet streaming as well as app controllers for iOS and Android devices. The RX-V773WA strives to justify its heftier price tag by also including a Wi-Fi adapter and an improved multi-point version of YPAO, Yamaha's room calibration system. Perhaps the most interesting feature for these new models is a subwoofer level adjustment that Yamaha promises will boost bass without adjusting the crossover point or negatively impacting sound quality.
The flagship RX-V773WA model also features an improved YPAO room calibration system, YPAO R.S.C. (Reflected Sound Control), which offers automatic multi-point room measurement to determine speaker positioning. The RX-V673 offers YPAO R.S.C. for automatic single-point room measurement. The YPAO system now reportedly ensures more accurate room measurements by confirming the subwoofer is fully responding before making audio adjustments.